Company:
Springfield Video LTD
Contact:
Roy or Ann Bastiman
Address
5 Kensington Road,
Sandiacre,
Nottingham,
Nottingham,
NG10 5PD,
UK

About Springfield Video LTD

Springfield Outside Broadcast have been in full operation since 1998 shooting and editing corporate, educational, and event videos for a growing list of clients. Many clients require only single camera operations to complete their projects but we also operate an Outside Broadcast unit for multi-camera live events. The outsode broadcast vehicle we use is a medium wheelbase Mercedes Sprinter and trailer combination, so we do not have the parking problems sometimes associated with larger units.

The Outside Broadcast vehicle has up to six camera channels can be available coupled to the vision switcher and the Video Toaster(3) 'live' hard disc recording, playback and editing facilities.

Audio is handled by a combination of Yamaha and Souncraft mixers with full patching and distribution facilities.

Comprehensive wired and radio talkback facilities are provided along with lighting for presenters and interview sets. Specialist equipment can also be hired as required.


*Outside broadcast

*Event outside broadcasting

*OB facilities

*Outside Broadcast - Camera facilities
Find Springfield Video LTD in
Location of Springfield Video LTD
Outside Broadcasting Sponsors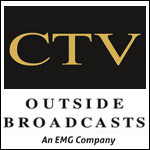 Outside Broadcasting
HD Outside Broadcasting
High Definition Outside Broadcasting
Leading Outside Broadcasting fleet UK and Europe
Contact us 020 8453 8989
Neon Broadcast Services provide location television facilities to television production companies and broadcasters, both terrestrial and satellite, throughout the UK and overseas. We offer a top level of freelance television professionals.
SIS LIVE can cover any event quickly and completely. Our approach to Outside Broadcast means we can offer you an unrivalled service. Specialist cameras, customised production units, mobile editing suites, HD transmission – when you need it, the largest fleet in Europe will be ready.