Company:
Prolink - Outside Broadcast Portable Production Units Kent
Telephone:
+44 (0) 845 123 5678
Address
Kent,
England

About Prolink - Outside Broadcast Portable Production Units Kent
Prolink was established in 1989 to offer television facilities to UK broadcasters and production companies. Today the company works on an international basis providing camera crews, a range of outside broadcast trucks and portable production units. Please visit our main website for details of our offerings and news of recent and forthcoming projects.

We offer an Outside Broadcast capability with an enviable track record. With a long list of programme credits covering sport, light entertainment, talkshows, discussion, reality, music concerts, the arts and business television you can be confident that Prolink can deliver the experience, equipment and crew that your next production deserves.

And we don't just work in the U.K. - our truck has seen service throughout Continental Europe. From Finland in the north to the southernmost regions of Spain, from Cornwall to the mountains of Austria, Prolink offers Pan-European coverage.
Company News
26/01/2018
Prolink Television Facilities - Expanding our capabilities
---
Prolink Television Facilities are pleased to announce the addition of a new Outside Broadcast Unit
to their range of facilities.
The new truck is a replacement for OB1 which has been seen at State occasions, major sporting events and countless Outside Broadcasts over many years.
The new unit is a 12m rigid vehicle with a large single expanding side to create additional space in
the Production, VT/EVS and Vision areas.
The truck is wired for 12 system cameras with RF channels being added as required.
There is dedicated rack space and wiring for 3 x EVS machines and additional space for 2 x Aja Ki Pro
type recorders as well as 2 x HDCAM or HDXDCam recorders.
Talkback is RTS Telex based with additional capabilities being added via a CTP Systems Camera
Talkback Controller with the latest CTP configurable talkback panels.
Two channels of Radio Talkback are carried as standard.
The truck boasts a low latency HD monitor stack with all displays driven from the router with
tallies and UMDs supplied via TSL's Tallyman system.
Speaking about the new truck Andrew Dugard, Director, said " Our OB1 has served us extremely
well over the years, often being at the heart of major events such as the Royal Wedding and the
Rugby World Cup but we were beginning to find that the demand for more and more production
space and increased EVS requirements were putting us on the limit of what we could physically
accommodate.
The new truck with its expanding capability gives us a much larger Production
Space, a much improved monitor wall and space to accommodate multiple EVS machines and
their operators comfortably.
The vehicle is the maximum length permissible on UK roads and
coupled with its large expanding side we're confident that we offer more working space per operator than any other UK truck - its an over used phrase but it truly has Tardis like qualities.
Our old truck was particularly useful where parking space is limited, such as in city centres and
we're confident the new truck's ability to deliver a powerful production solution within a smaller
footprint than articulated OB units is a capability that Production Companies and Broadcasters
will value".
"The coachwork and interior fitting was carried out by Levscol Ltd near Colchester who under the
guidance of proprietors Ian Scolding and Stuart Levett have done a wonderful job in creating a
real WOW factor of a working space. We really can't praise their engineering excellence and
attention to detail highly enough"
The truck is available with immediate effect.
Further details can be requested via email info@prolinktv.co.uk or by calling Andrew or Michael
Dugard on 0845 123 5678.
NOTES:
Prolink was established in 1989 and today offers a range of De-rig, Truck and studio based multi-
camera facilities. The company operates primarily in the UK but also undertakes assignments in
Europe and the Gulf States. The popular BBC weekend show "Saturday Kitchen" is transmitted
live each week from Prolink equipped and crewed studios.
Find Prolink - Outside Broadcast Portable Production Units Kent in
Location of Prolink - Outside Broadcast Portable Production Units Kent
Outside Broadcast & Satellite Services Sponsors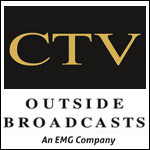 Outside Broadcast & Satellite Services
CTV has developed into one of the largest and well-respected independent OB Companies in Europe
HD OB fleet
Contact us 020 8453 8989

Links Broadcast HD & SD Facilities Include:
SNG Services
Satellite Downlinks
Microwave Links
Vision Mixing & Editing
Video Conferencing
and much more