Company:
Phoenix Casting Agency
Address
The Bottleyard Studios,
Whitchurch Lane,
Bristol UK,
BS14 0BH,
England

About Phoenix Casting Agency
Celebrating 24 Years in the industry of Casting for Television, Film and Media 1995-2019
The Phoenix Casting Agency are the most established and experienced agency, casting actors, voice-over artistes, photographic models, promotional staff, chaperones, stand ins and doubles, walk-on and background artistes in the South West and Wales.
We also have an established database of artistes in the Midlands and South East.
We are able to supply you with an outstanding service, providing you with a fast friendly and quality service second to none.
The staff are a long standing and loyal team of bookers with many years of experience within the industry.
Who we areCaron Hughes
- Caron established The Phoenix Casting Agency over 15 years ago and has 23 years experience in the industry.
Cath Wager
- Cath has been with us for 8 years.
Rhianwen Bailey
- Rhianwen has been with us for 2 years with a further years experience elsewhere.
Carolyn Jolliffe
- Carolyn has been with us for 2 years.
Liz Riddle
- Liz has been with Phoenix for 2 years and has 10 years accounts experience.
If casting for BACKGROUND AND SUPPORTING ARTISTES
We will create a bespoke CD of our artistes based in the area you are filming


A member of our team will come and meet you in person to discuss your requirements for the shoot


You can call or email with your requirements and we will cast accordingly, making suggestions for specific requirements when required.


You can also view our on-line database and come to us with your wish list


We are contactable 24/7 with an 'out of hours' contact number for those times when you need our service out-of-office hours


Salary Vouchers can be supplied when required
We have established a good number of talented parts actors and voice over artistes so...
If casting for ACTORS, VOICEOVER ARTISTES OR PHOTOGRAPHIC MODELS
Please call to discuss your requirements or email us and we will suggest suitable artistes.
We have a room in the office if you need space for your casting.


For voice-over requests we can send mpeg's or CD's and are hoping to have voice clips on our website very soon.
Credits 2008Television
Casualty, Dr Who, Torchwood, Larkrise to Candleford, Merlin, The Sarah Jane Adventures, Skins, Mistresses 2, Being Human, Bonekickers, Lewis, Four Seasons, Men are Wonderful, The Sight, Waking the Dead, The Royal, Silent Witness, Harry and Paul, Not Going Out, Eastenders.
Film
The Big I Am, Skellig, The Colour of Magic, Alice in Wonderland, Fathers of Girls.
Commercial
Cabot Circus, Natwest, Devon Recycling, Land of Leather, Pet Plan, Comet Website, Stena Lines.
Corporate, Reconstruction, Music Video and Roleplay
7/7 Reconstruction, Nature Shock, Terry Pratchett Documentary, Harcourt, Barclays, Gamma Television, Learn Direct, BBC Learning, Laerdal, Nationwide, Sony, RNAS Yeovliton, Wessex Water, Jungle Drums, BAE Systems, Bath Spa 'Meet the Romans', University of the West of England, Bath Spa University, B&Q
Commercials
Lotto, Disney, HSA, Cadbury Garden Centre, Dreams Beds, Bristol Zoo, Yes Car Credit, B&Q, Centre Parcs, Blockbusters, Srewfix, Frubes.
Voice Over
Chelsea Building Society, London Basement Company, Comet Website, Educational Video, Unite, The Mall Bristol, BBC Learning, Conference Connections
Twitter Feed

Facebook Feed
Reviews for
Phoenix Casting Agency
Phoenix Casting Agency

Terrific agency very professional, Ive worked for them as a extra for a couple of years heard about them while building a set. The best agency in wales and the south west in my opinion. not just to work for but the way they manage sa's for clients
Phoenix Casting Agency

I have been with Phoenix Agency for number of years now, they have been very good to me, that does not mean they keep me very busy ( I wish they give me more work) but, they are always straight, honest and friendly on the phone and i really get excited when they call me.
Phoenix Casting Agency

Great agency- led to fantstic opportunties! Always nice when they get in touch.. i always get excited when i see their name flash on my phone! Wish i could get work more often :)
Kate Alicia Morgan
, 22/04/2013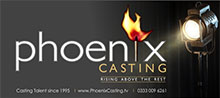 5

out of

5
based on
3
ratings.
user reviews.
Find Phoenix Casting Agency in
Location of Phoenix Casting Agency
Agents - New Talent Sponsors

World Premiere Physical Artist casting agency:
Sports Talent
Film / Commercial Casting
Event Performance