Company:
Digital Space-Satellite Trucks
Address
Unit E1 Network Enterprise Park,
Co.Wicklow,
Ireland

About Digital Space-Satellite Trucks
Digital Space is the largest independent satellite communications service in Ireland with four fully redundant digital satellite trucks, supported by earth stations in Dublin and Belfast. The focus is on sports or news coverage of events with rapid communication links to Europe, North America, South America, South Africa in a single satellite hop. Links to and from the other parts of the world can also be organised via fibre or double satellite hop.
The satellite trucks operate throughout Ireland. The setup can consist of a self-contained satellite truck with up to 4 cameras or a satellite link alongside a multi-camera Outside Broadcast Unit. 
The dedicated state of the art digital MCRs are fully integrated with Screen Scene's facilities, further benefiting from all the hardware, experience and creative expertise associated with studios and full service post production facilities. Digital Space caters for a wide range of customers, tailoring its service to individual requirements in a cross section of markets.
These markets include:
Sports, News & Current Affairs, Broadcast, Commercials, Corporate.
Find Digital Space-Satellite Trucks in
Location of Digital Space-Satellite Trucks
Outside Broadcast & Satellite Services Sponsors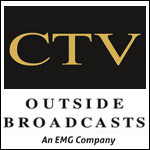 Outside Broadcast & Satellite Services
CTV has developed into one of the largest and well-respected independent OB Companies in Europe
HD OB fleet
Contact us 020 8453 8989

Links Broadcast HD & SD Facilities Include:
SNG Services
Satellite Downlinks
Microwave Links
Vision Mixing & Editing
Video Conferencing
and much more