Company:
Vetcetera -Vet for film & television Sets
Address
Bookers Cottage,
Downside Common Road,
Vet Surrey UK,
Downside,
KT11 3NP,
UK

About Vetcetera -Vet for film & television Sets
Will provide a professional and comprehensive location Veterinary service in caring for animals in film and television sets. Are committed to safeguarding at all times the welfare of the animals. Respect for and the wellbeing of those animals will always be of paramount importance.
We can provide specialised veterinary involvement in and supervision of animal welfare within the media industries and are committed to all aspects of Health and Safety in the working
environment.
Examination by our Vets before filming ensures the animals are fit for the purpose. This assessment continues for the duration of the shoot.
The Vet will have a clear insight into the behavior of the animals on set. Inappropriate tasks will be noticed before valuable time is wasted attempting the impossible or perhaps injuring the animal or crew.
Our Veterinary Surgeon is trained and licensed to diagnose and treat animals. Prompt medical action may well be required. Our Vets carry the necessary emergency equipment and drugs to diagnose and treat likely problems on set.
Only a veterinary surgeon is licensed to diagnose and treat an animal and therefore should be employed to ensure the fitness and health of the animal. The veterinary surgeon can objectively and independently assess that nothing is asked of the animal that is contrary to its well being and that no substance is given to affect or alter its normal state of health for the duration of the shoot.
The veterinarian should be on hand - able to observe the animal- throughout filming in order to identify any physiological changes. Furthermore, if an accident should occur, the vet can then administer immediate treatment.
Reviews for
Vetcetera -Vet for film & television Sets
Vetcetera -Vet for film & television Sets

I have been in the industry for over 30 years working with all different species from house flys to hippos and vetcetera in our opinion is the best vet out there friendly and reliable the number 1 vet on set Trevor smith at animals work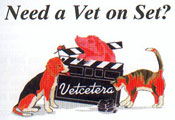 5

out of

5
based on
1
ratings.
user reviews.
Find Vetcetera -Vet for film & television Sets in
Location of Vetcetera -Vet for film & television Sets

Trevor Smith has over 30 years experience in the film industry providing animals for some of the biggest film and tv productions, Animal Works has a solid reputation and is at the forefront of the animal training and Animal wrangling industry in the UK.

07956 564715

Want the very best animals with skilful, knowledgeable and experienced handlers?

With many years of practical experience and a wide range of animals trained by positive reinforcement, we know exactly how to ensure you get the shots and behaviour you want, when you want it.