Arveys Outdoor Catering provide the best quality, value and service for outdoor events, keeping the visitors to your event fed and watered, with a variety of refreshments to tingle the taste buds!

Arveys Outdoor Catering is a family run business initially set up as an ice cream company. Over the last 10 years the company has expanded into outdoor food catering and confectionery units.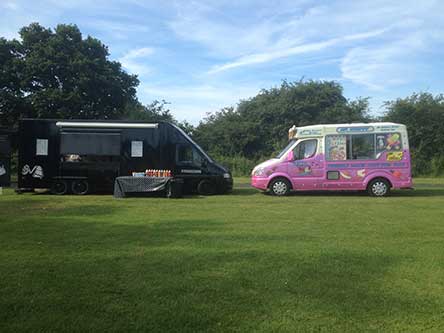 We are available for large and small events across London and the South East. We can be regularily seen outside West Ham United on match days, and have covered many other events such as:

Notting Hill Carnival
Newham Town Show
Charity Events
Concerts
Carnivals
Fetes
Horse & Dog Shows
Firework Shows
Corporate Events & Functions
Film Location Catering

We have worked for Newham Council, Westminister Council, Lewisham & Greenwich Council.

As a professional outdoor catering company we are very flexible and can provide bespoke menus, including Halal to cater for your function.

We have Public & Employer's liability insurance and fully comply with all health and safety legislations.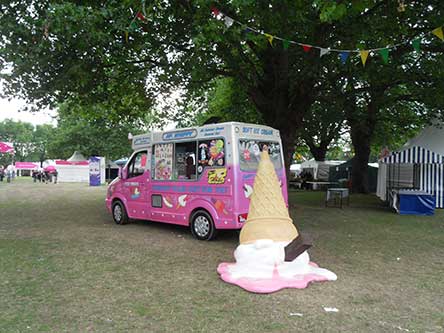 Catering Wagon
The only one of it's type in the UK.

Our Catering Wagon is spacious and fully equipped and ready to cater for any event or function.

We supply a wide range of refreshments from our catering wagon including: Burgers, Fries, Hot Dogs, Bacon & Egg Rolls, Hog Roast, Fresh Roast, Jacket Potatoes, Salt Beef, Baguettes, Tea, Coffee and Soft Drinks.

Plus a wide range of Ice Cream, Lollies, Smoothies and Candy Floss.


Arveys catering www.arveyscatering.co.uk

---

Breakfast

Hot Breakfast on the move - egg / tomatoes / mushrooms / hash brown / bacon / sausage / quorn bacon / qourn sausages in a fresh roll or sandwich of wholemeal or white bread

Lighter Alternatives - croissants / yoghurt / cereal / porridge / fresh fruit

Beverages - A variety of teas / filter coffee / fresh juice


---

Lunch

Mains

Chicken and Mediterranean Vegetables - Thigh of chicken, roasted with a seasoned gravy. Served with mediterranean vegetables.

Roasted sweet potato, prawn and chilli salad

Sausage and Mash - English prime pork sausages and mash and peas with onion gravy

Meatballs - Meatballs in a tomatoes and herb sauce with pasta and salad and garlic bread

Steak and Stilton Pie - Homemade Steak and stilton Pie with new potatoes and fresh vegetables

Veggie Bake - Home made veggie bake with a choice of side salad

Jacket potatoes
Jacket potato with a range of fillings including:
cheese / baked beans / tuna and sweetcorn / chilli con carne

Side Salads
coleslaw / green salad / tomato and onion salad / potato salads

Sandwiches
A variety of mixed sandwiches and rolls plus finger food


---

Dessert
Daily options available