TV Studio
An air conditioned acoustically treated studio and gallery, ideally suited for interviews. The studio has controllable lighting, and a green screen across two walls. Blue and black curtains are also available.

Click here to view our Courses!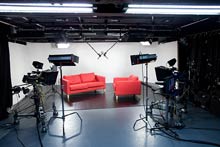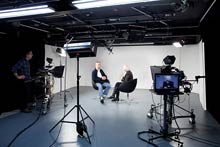 Clients include:
Sit-up TV - Presenter training and auditions.
BBC Manchester - Green screen interviews with leading British film makers.
Brand Fuel. – interviews for Google.
Sky Movies - documentary interviews.
Toast TV - various commercials.
Tiger Aspect - Vicar of Dibley Special
BBC Birmingham - Interviews for Desi DNA.
Fox - links for reality TV programme
GMA - Presenter training.
Yoodoo - innovative online training content

Meeting Room
With flexible furniture layout, wall-to-wall white boards, data projector and fast internet access. Can be used for workshops and as a meeting space.

Room Dimensions - 40 sq m
Max. Capacity - 12 boardroom, 15 as workshop, 25 theatre style seating.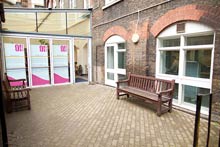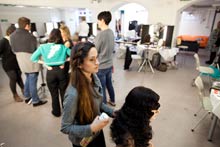 Events Space
Events space suitable for a broad range of events from one-off showcases to product launches, conferences, seminars and workshops.

Data projector, sound system, wireless internet access, versatile lighting and access to outdoor courtyard area.

Room Dimensions - 120 sq. m
Max. Capacity - 70 seated or 150 standing

Hires are available weekdays, evenings and weekends, on a half-daily and daily basis. Longer term usage can be accommodated.
On 8 Sep 2010, at 12:20, studio@01zero-one.co.uk wrote:


Erik Moore
Studio Manager

01zero-one
Peter Street
Soho
London W1F 0HS

0207 025 1988
07944833256
www.01zero-one.co.uk