Broadcast Equipment - Manufacture Sponsors

PORTABLE TEST EQUIPMENT that's very Friendly, ultra-Fast and Flexible too.
Generate Video & Audio signals
Monitor Pictures, WFM, Vectors
Audio: Listen, Level & Phase
TDR Installation & Cable Tester.
......and very cost effective!
Broadcast Equipment - Manufacture Companies
In Slough, Buckinghamshire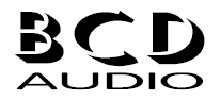 BCD covers the length and breadth of AES/EBU Audio! BCD Audio builds and supplies both standard and custom designed audio products. Our range of rack mounting and black box...