Broadcast News
01/06/2007
BBC Trust Approve Department Move To Salford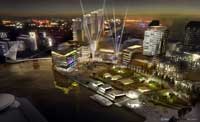 The BBC has reached agreement with the developer Peel Holdings over the detailed terms under which it will occupy buildings in the mediacity:uk development at Salford Quays.
The BBC Trust has approved the terms of the deal, meaning that the BBC's proposed move of five of its London-based departments to the North of England will now definitely go ahead.
BBC Director-General, Mark Thompson, said: "I'm delighted that the BBC's vision for its expanded presence in the North of England is now firmly on the road to reality. I'm excited by the plans and believe they have a key part to play in the BBC's future.
"The modern, multimedia broadcast and production centre in Salford will shift the BBC's centre of gravity away from London, bringing a range of creative benefits to us and, I hope, helping us to better reflect and represent the whole of the UK.
"I'm glad that the BBC Trust agreed that this project represents value for money for licence fee payers and that we are now able to proceed."
It is expected that preliminary work will begin at mediacity:uk in Salford Quays within days, followed by the start of construction works in September 2007.
The mediacity:uk site is being developed by a partnership comprising the Central Salford Urban Regeneration Company, the North West Regional Development Agency, Peel Holdings and Salford City Council.
The BBC will move five London-based departments, including two television channels and two radio networks, to Salford Quays:
BBC Children's (including CBBC and CBeebies television and radio)
BBC Children's Learning;
parts of BBC Future Media & Technology (including BBC Research & Development);
BBC Radio Five Live (including Five Live Sports Extra);
BBC Sport.
Approximately 1,500 London-based posts will relocate to Salford Quays in 2011. Around 800 staff currently based at the BBC in Manchester will also move to the new site.
Caroline Thomson, Chief Operating Officer of the BBC, will be the Executive Director with responsibility for delivering the implementation of the BBC's move to Salford.
Thomson commented: "I'm delighted that we have now finalised the terms for the BBC's presence at the mediacity:uk development. This is a really exciting project for us all and I look forward to working with colleagues in Peel Holdings and the development consortium to turn the vision into a reality."
Pat Loughrey, Director, Nations & Regions, who has led the project up to this point, continues his responsibility for the BBC's wider 'Out Of London' strategy, which is committed to distributing the BBC's production spend and commissioning decisions more widely across the whole of the UK.
(DS/SP)
Top Related Stories
Click here for the latest broadcast news stories.