Broadcast News
26/04/2007
Significant Rise In International Attendees At NAB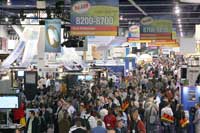 The National Association of Broadcasters has released initial attendance figures for NAB2007, the association's annual convention and exhibition in Las Vegas.
There was a significant increase in the number of NAB2007 attendees pouring through the halls at Las Vegas Convention Center.
Registered Attendees
2007: 108,232 (2006: 105,046)
International Attendees
2007: 26,824 (2006: 25,537)
News Media Attendees
2007: 1,214 (2006: 1,294)
International and news media attendance figures are included in the overall registration number. The figures are estimates based on pre-show and onsite registration - final registration data will be available following the show.
The National Association of Broadcasters is the trade association that advocates on behalf of more than 8,300 free, local television and radio stations and also broadcast networks before Congress, the Federal Communications Commission and the Courts. Information about NAB can be found at:
www.nab.org
(DS/SP)
Top Related Stories
Click here for the latest broadcast news stories.