Broadcast News
31/08/2000
RTS QUESTIONS BROADCASTING FUTURE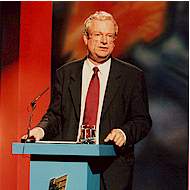 THE Royal Television Society is set to question the future nature of broadcasting and television in the United Kingdom.
The RTS Conference in October will try to identify the winners and losers from the Government's intended reform of Communications and Broadcasting legislation. The conference will also question what future there is for traditional public service broadcasting in the broadband and digital world, or if any kind of broadcasting has a long-term future.
As giant international mergers and consolidations take place on a regular basis, the conference will look at the implications of reforming the media ownership laws in Britain; it will also assesses the battle between broadcasters and producers for the key rights that will be needed in the new world, and how legislation might alter the balance of power.
Finally, the RTS Conference will analyse how the regulators themselves see both their own futures and the future of the industry.
Secretary of State for Culture Chris Smith is to offer his own views on all these issues at the end of the conference.
Top Related Stories
Click here for the latest broadcast news stories.