Broadcast News
27/05/2022
disguise To Launch Metaverse Solutions Division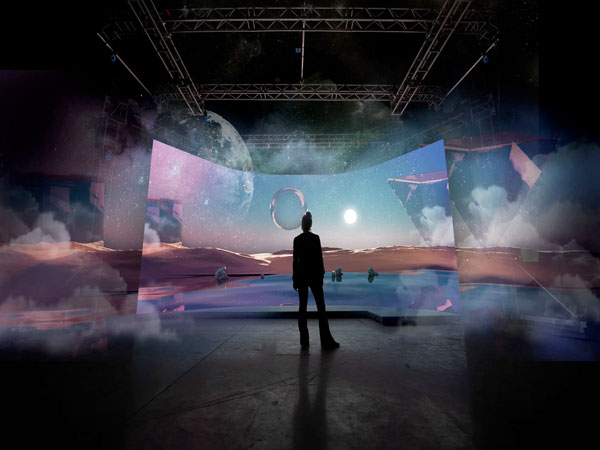 disguise is to launch its Metaverse Solutions division to enable the next generation of extraordinary live, virtual production and audiovisual location-based experiences for the metaverse.
The recent rise of real-time 3D graphics rendering capabilities in gaming platforms means that today's audiences are craving richer, more immersive experiences that are delivered via the metaverse. While the metaverse is already defined as an $8 trillion dollar opportunity by Goldman Sachs, companies are still finding it challenging to navigate the technical elements needed to start building metaverse experiences.
disguise Metaverse Solutions will build on already existing disguise solutions that empower live events, audiovisual, location-based experiences and virtual production content in order to allow businesses to start taking advantage of the unique opportunities the metaverse has to offer.
Launched within the past two years, its market-leading extended reality (xR) workflow has powered over 600 productions in over 50 countries. These include the delivery of live events in the metaverse, such as Kaskade'='s in Fortnite and Rocket League as part of its Llama-Rama event series as well as supporting launches for major brands like Gucci and Ferrari.
The firm will further leverage its extended reality solution together with its partnerships with metaverse event enablers Surreal and advanced content creators ZOAN while also combining our workflows and expertise with Epic Games' suite of applications, such as architectural visualisation tool Twinmotion, web 3D viewer Sketchfab and 3D photogrammetry software Capturing Reality. With this, disguise will build capability to offer virtual production workflows custom-designed for the metaverse.
In the metaverse, live concerts hold more appeal than any other experience, with 45% of all adults eager to listen to live music in a virtual world. According to Rolling Stone, we are on the brink of a virtual artist revolution with Ariana Grande, J.Balvin and DJ Marshmello being the early adopters.
For over twenty years, disguise has powered spectacular experiences including music performances for the biggest artists in the world: Billie Eilish, Ed Sheeran, Camilla Cabello, Katy Perry, DJ Kaskade and J Balvin, as well as for major shows like Coachella and Glastonbury to name a few. Its solution has been used by brands like Nike, Underarmour, Volvo, Siemens and Walmart as well as to power spectacular augmented reality and projection mapping experiences in the 2020 Expo Al Wasl Plaza dome, the BTS 'Love Yourself, Speak Yourself' Tour and rapper Dave's 2020 Brit Awards performance.
Its ability to enable infinitely scalable content has been used extensively in entertainment venues such as the newly-opened Nashville-based Nightscape venue and the Atlanta and Vegas-based Illuminariums which, through cinematic scenes generated in real-time at a 240-degree native field of view, allow visitors to experience being in another world, without using any VR devices.
This rich history will allow the new division to work with major and emerging Metaverse platforms, such as Fortnite, Roblox, Sandbox, Niantic and others, to deliver integrated solutions so brands and performers can create metaverse experiences that resonate with their audiences.
www.disguise.one
Top Related Stories
Click here for the latest broadcast news stories.