Broadcast News
21/12/2021
Soliton Systems Launches Zao Cloud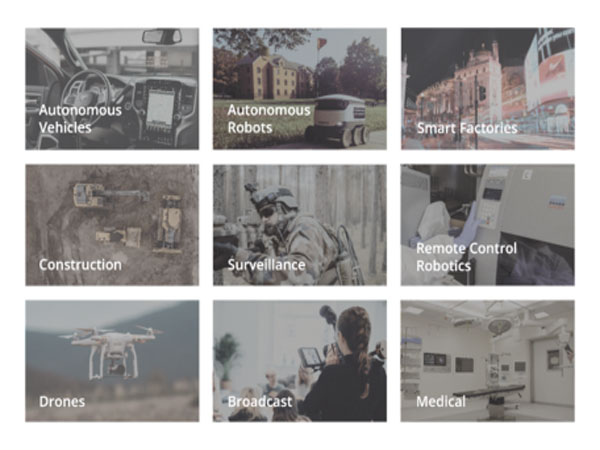 Soliton Systems has announced the launch of Zao Cloud on AWS Wavelength from Amazon Web Services, Inc. (AWS), to enable the live streaming of high resolution video with almost zero latency over 5G.
With many remote-control mission control applications that rely on almost zero delay video for safe operation, with the new launch of Zao Cloud from Soliton, a groundbreaking service is being offered to enable encrypted video with ultra-low latency live streaming over the public cellular network.
The Soliton Zao Cloud is hosted on the AWS Wavelength, which embeds AWS compute and storage services at the edge of telco providers' 5G networks. What makes it so special is that it can be deployed on physical 5G base stations bringing cloud-based platforms closer to devices using 5G applications. This enables connectivity with ultra-low latencies and very high bandwidths on untethered devices such as cameras within vehicles, robots, drones and other 5G enabled devices.
Soliton Systems is a leading developer of live video streaming technology over cellular networks. Their trail blazing Zao range of products, and encrypted RASCOW transmission technology has previously been in use by broadcasters and surveillance agencies for highly reliable live streaming. And now they have uniquely developed latencies well below 100ms glass-to-glass over the cloud. Zao Cloud applications implemented on AWS Wavelength will enable super-fast video decoding and delivery while also allowing a return IP based network path for remote control needs.
By combining Soliton's encrypted ultra-low latency video and control data transmission technology leveraging AWS Wavelength and 5G, it brings together the technologies for almost zero delay video streaming and teleoperation applications over public cellular networks that previously was not feasible.
Dr Nobuo Kamata, CEO of Soliton Systems explained: "It used to be considered that live streaming over cellular with end-to-end latency of less than 1 second was a challenge. We took that latency below 0.1 second and with that opened a new range of applications, especially in the automotive sector for remote driving and connected autonomous driving, as well as teleoperation of construction machinery, cranes and remote drone operation beyond visual line of sight. With AWS Wavelength and with the benefits of 5G, offering ultra-low latency cloud services for a variety of business applications becomes no longer the realm of science fiction."
www.solitonsystems.com
Top Related Stories
Click here for the latest broadcast news stories.