Broadcast News
24/11/2021
RBS TV Selects Pebble Solutions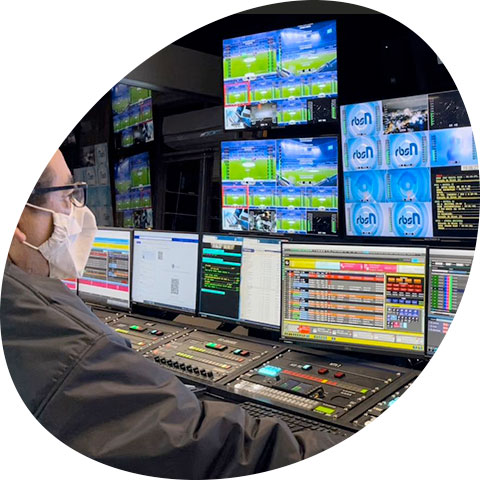 Pebble has announced that RBS TV, one of the oldest Rede Globo affiliates and Group RBS' main network presence in Southern Brazil, has chosen Pebble solutions to deliver bespoke automation, playout and management solutions to help it restructure and centralise its operations.
RBS plans to unlock efficiencies throughout its organisation by consolidating independent stations in central casting clusters, optimising and automating their operations with the Pebble solution. This will help it achieve its primary objective: reducing operator repetitive tasks and transferring manual and labour-intensive activities over to automated and safe operations.
Pebble has continued its impressive growth in the region by providing RBS with a fully-redundant Playout in a Box solution, also encompassing branding, loudness processing and remote operation. Hybrid central casting from the cluster and remote casting from HQ and network enables RBS to consolidate operations while keeping a distinctive presence in important regional markets with local news and programs. The result is a streamlined and optimised operation that reduces infrastructure, enables redeployment of staff to more creative roles, and controls costs with safe and reliable operation.
In a competitive pitch, RBS evaluated several solutions available on the market before choosing a Pebble solution which demonstrated the ability to cope with the technical complexities of the project while remaining cost-effective, and tailored to their specific needs.
"We were impressed by the system's flexibility and its software-defined and COTS-based approach, which meant we could use locally sourced and integrated hardware," commented Carlos Fini, CTO at RBS TV. "Pebble has a user-friendly interface widely adopted in Brazil, by Globo amongst others, which provides fast on-air changes and planning and efficient media management. Alongside highly skilled and experienced local support from Videodata, its wide installed base helps make it the obvious choice in this market."
São Paolo-based systems integrator Videodata has integrated all the hardware locally, with local on-site support. "We're delighted to have delivered a complete installation of Pebble Automation and Integrated Channel for RBS TV," comments Rosalvo Carvahlo, CEO, Videodata. "What made this installation unique were the specific Pebble workflows to meet their requirements including importing automatic metadata and media transfers, fast system responses to accommodate last minute changes for live TV, Time Shift/Time Delay for overrunning sports events and solutions for remote network triggering. Seeing them successfully go to air recently was a testament to a fantastic collaborative team effort between ourselves and Pebble and of course the dedicated broadcast teams we had the pleasure to work with at RBS TV."
www.pebble.tv
Top Related Stories
Click here for the latest broadcast news stories.