Broadcast News
06/08/2021
FutureVideo Products Evolves V-Station HD Product Range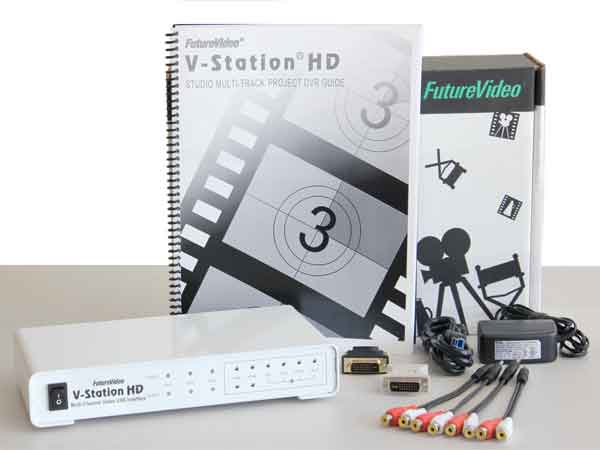 FutureVideo Products has evolved its V-Station HD product range to include PC-based video capture packages and modular plug-in software for Systems Integrators and AV Contractors who provide complete turn-key solutions for their clients.
The new capture packages come in two series: V-Station HD Studio and V-Station HD Producer. Both include FutureVideo's paradigm-shifting V-Station HD Project Media Manager (PMM) software. Studio provides choices of 4-channel or 8-channel SDI/HDMI H.264 FHD or 4K (UHD) capture cards. Producer is a FHD 4-channel video USB Interface capture device for "grab and go" recording. These packages address a variety of applications that require multi-channel video acquisition and a way to manage the project's video/audio media and metadata from the start of production, through post, and delivery.
FutureVideo's PMM software provides the necessary tools and structure to accomplish this using the company's proprietary "project-based workflow" concept. "Project-based" workflow is a higher-level, easier to use, and more efficient means to manage a project's assets and its structure than is possible with traditional "file-based" workflow methods. The PMM software integrates database media management with fully synchronized multi-channel video capture and playback. It provides an assortment of software tools, including: an advanced media player with clip logging and playlist management; a full-featured clip browser; FTP file transfer; one-click backup/restore, and an intelligent "one-click" export tool to create XML files to send the project to leading third-party video editing software.
As part of the new capture package offerings, FutureVideo's new plug-in software modules are available to augment the PMM software and enable Systems Integrators to customize the system capabilities for specific client needs. These modules include: AutoProducer® for live event production; Multi-Stream™ for multi-channel live streaming; Multi-View® for post observation/ analysis; and the soon-to-be-released Insta-Vue™ for live multi-channel instant video replay/review.
www.futurevideo.com
Top Related Stories
Click here for the latest broadcast news stories.