Broadcast News
14/07/2021
Pliant Technologies Supports ManPAC Productions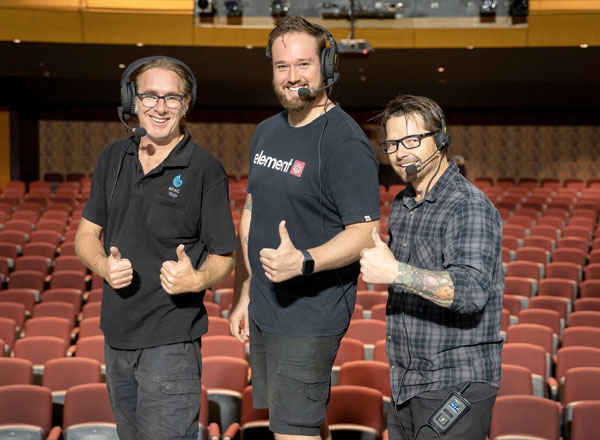 Pliant Technologies MicroCom XR digital wireless intercom system has been called the perfect choice for Australian venue Mandurah Performing Arts Centre.
The solution has been utilised by the arts and cultural centre to provide production staff with a dependable communication solution to put on high-quality events.
Head of Staging, Ciaron McCormack, who makes sure everything runs smoothly in the production on and off stage, is a keen admirer of the MicroCom XR.
"Pliant's MicroCom XR, paired with the brand's SmartBoom headsets, allows me to provide the crew with the tools they need for clear communication between the front of house and backstage areas," he said.
At ManPAC, the wireless users of its eight MicroCom XR packs include the audio and lighting operators, stage manager, flyman, mechanist, follow spot operator, front of house manager, and bar manager. MicroCom XR helps to ensure that all aspects of a production are executed as planned, with a coverage zone that reaches from backstage to front of house and beyond.
For McCormack, there was a variety of features that made it clear that MicroCom XR was the perfect choice for ManPAC. "The lightweight, compact design of the MicroCom XR beltpacks immediately stood out to me, as it seamlessly clips on to staff members' clothing without being bulky or getting in the way while they move around the theatre," he said. "Plus, it's super easy to use and the price was fantastic compared to other products."
In addition to the benefits of the MicroCom XR beltpacks, McCormack finds the flip-up microphone muting option on the SmartBoom headsets to be a huge benefit to their production workflow. "There's a lot to like about MicroCom XR, but the talk/mute function built into the SmartBoom headset was a selling point for us," he added. "With their exceptional audio quality, the headsets pair perfectly with the caliber of the intercom. It's so easy to just flip up the boom arm when you want to mute yourself, and then flip it backdown when you're ready to talk — it helps us to be even more efficient in our flow of communication. Thanks to Pliant's MicroCom, we can continue to put on the exceptional performance quality that the Mandurah community knows us for."
www.plianttechnologies.com
Top Related Stories
Click here for the latest broadcast news stories.