Broadcast News
07/07/2021
Lavalier Switch Kit Proves Valuable For Australian Sound Recordist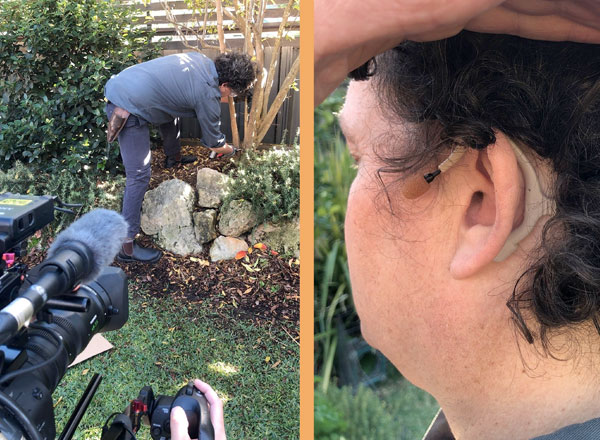 Point Source Audio's Lavalier Switch Kit has been a hit with an Australian TV gardening show.
Local location sound recordist Christopher MacGregor utilised the two-in-one lavalier and on-ear miking tool kit for the project, becoming the first ever customer to embrace the solutions.
"The gardening host I work with is often performing quite physical tasks so for some years, I've been concealing the microphone into his mop of curly hair using wig and hair clips," explained MacGregor. "This takes time and often requires readjusting throughout the shoot. So when the Point Source Audio Lavalier Switch Kit became available, I thought, 'that's going to make life so much easier.' I've probably got a dozen different methods of mounting lav mics and this has added another great option."
The Lavalier Switch Kit delivers the company's best-selling waterproof omnidirectional lavalier microphone that transforms into two wearing styles and three different colour options to help audio technicians meet the ever-changing conditions of miking talent. A large assortment of clips and windscreens accompany the Lavalier Switch Kit to offer traditional and inventive mounting options.
MacGregor's instinct has proven accurate as the EMBRACE microphone configuration has already served on three successive shoots with the presenter. "It has made things a lot easier to manage," he stated. "I'm no longer constantly going up and fiddling with the talent's hair and having to put the clips back in! Also with his role, it's very physical—he could be digging holes with a spade, sawing stuff, using secateurs, cutting branches, very physical stuff; so the Earmount, in particular, does a really good job at holding everything in place and that's definitely improved my workflow."
Perhaps most importantly, the talent has also been happy with the change MacGregor has made. "He really likes it as well; he found it so comfortable that he forgot he was wired up," revealed MacGregor. "He says it's just the right fit for him as the old miking solution can pull at his hair when I'm putting the clips in. He was really positive about it."
"It's particularly good for miking women with plenty of long hair," he continued. "Often, when you're trying to find the right way to place a mic on them, it can be a bit creepy for them. But EMBRACE limits the invasion of personal space, which is good. It'll definitely become a part of my kit in the field."
MacGregor concluded: "I think Point Source Audio has really hit the mark with EMBRACE. I like the idea that they don't float about—they stay on mic as the mic is always aimed to the mouth. So, it's got a lot of positive points for me from a sound recording perspective."
www.point-sourceaudio.com
Top Related Stories
Click here for the latest broadcast news stories.