Broadcast News
25/08/2020
Mo-Sys Appoints CJP Broadcast As StarTracker Studio Distribution Partner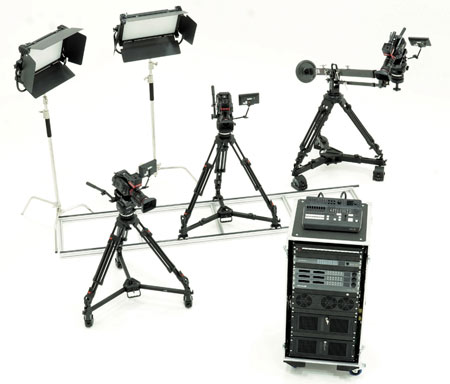 CJP Broadcast has announced its appointment as exclusive distributor of the Mo-Sys StarTracker Studio to the educational, sports, corporate and regional broadcast markets in the UK, the Republic of Ireland, and Gibraltar.
Mo-Sys products are used daily by over 100 broadcasters and have been deployed on more than 100 major motion pictures. The Mo-Sys StarTracker camera tracking technology has proved a key component in the rapid growth of virtual production. Designed for use with blue/green screens, and more recently LED walls, it seamlessly blends photo-realistic 3D graphics with real elements.
StarTracker Studio is a complete three-camera 4K virtual studio system which can be expanded to source from up to 16 cameras. Fully configured with pre-calibrated lenses, integral graphics processing and 4K recording, it transforms a compact studio space into a much larger virtual studio without need for physical set construction. Virtual sets can be switched almost instantly and augmented to include remote guests or superimposed objects. Photo-realistic graphic capabilities include occlusion handling which allows a presenter to walk in front of or behind a virtual object, and reflection mapping which intelligently adds reflections to adjacent virtual objects. Among additional features are soft shadow lighting effects and depth-of-field lens emulation.
"CJP has secured a strong presence in the enterprise market for which we created StarTrack Studio," comments Mo-Sys Commercial Director Mike Grieve. "The CJP team have proven experience in providing the hardware, the software and the supporting services which are needed across this sector, not least with their Live Sports Production solution which is ideal for integration with our technology."
"Mo-Sys has developed an impressive range of production-oriented solutions which have proved highly successful over the years among film-makers and broadcasters," adds CJP Broadcast Managing Director Chris Phillips. "StarTracker Studio extends the cost benefits of virtual studio production to a much wider range of organisations as they sharpen their communications activity for the increasingly online world."
www.cjp-bss.co.uk
Top Related Stories
Click here for the latest broadcast news stories.