Broadcast News
18/03/2020
Trade Show Cancelled? What Now For Business Development?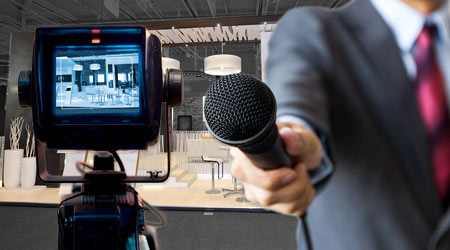 When Mobile World Congress cancelled their exhibition at short notice, the reality of the Coronavirus hit home and people in our industry woke up to the seriousness of this global epidemic.

The realization was that it would actually impact us directly and this will have a real impact on our business. Reduced confidence in the global economy has seen recent sharp falls in the stock market and without finding new customers and projects, normally as a direct result of many of the world's leading trade shows, then it is major concern for everyone in business.

As manufacturers and service providers, we must carry on business as normal, and ensure confidence remains. This will only be a bump in the road and confidence will return. And so we must continue to conduct business. People still want to be entertained, broadcasts will continue, and content is still being created. Technological innovation continues all around, I still have a mortgage to pay and the world still turns. Albeit with a few additional hygienic precautions.

If as a company you relied on exhibitions to find new business and projects, what is the alternative?
I have always had mixed feelings about trade shows. They are expensive, certain things are a monopoly where they charge what they like, and for the bigger trade shows they always seem a day too long. But no doubt with the right show, they are a great source of new contacts and opportunities, and for many are a major source of new business.

I am hearing of many companies now proposing virtual booths as a contingency plan. Maybe from a simple webinar to a more in-depth immersive VR solution. The issue is that how do you get those people through the power of serendipity – basically being in the right place, at the right time with the right project to your virtual booth? It's not like they are going to randomly walk by as they do at a trade show. Remember how we used to feel when we met people with an opportunity? It's almost like meeting your perfect date in the old days before Tinder.

This is where a digital marketing strategy will definitely help. Almost like Tinder for business. Sometimes called growth marketing or in-bound lead generation, it is a strategy to attract new people with a requirement for your services to contact you. Often via a "Call-To-Action" they will contact you either by downloading a white paper, signing up to an offer, or merely just filling out a contact form for further information on your web site. We want them to swipe right and naturally the trick is to get qualified visitors to react to your online presence. Social media may work where people share or retweet your content, so it gets in front of new audiences. Or typically people will just search on Google. But it is a proven method of people contacting you if they are interested in what you have to offer. Assuming they find you – and that is the strategy behind digital marketing. But you do need to create interesting or compelling content.

Digital marketing isn't necessarily a replacement for trade shows but is normally a complementary lead generation strategy. But in these times and if done properly, it can be a worthy alternative. And the good news is that it will not cost no-where near as much and unlike trade shows, it is working 24x7x365, and does not take coffee breaks to look up Tinder dates.
As an old friend said recently "Let's keep the world turning!"

About the Author: Mark Andrews is the owner of Rain Dance, a digital marketing company that specializes in digital marketing for broadcast technology and media companies. With a sales, marketing and technology background, Andrews writes content for organizations wishing to improve their organic on-line presence, increase brand awareness and develop new leads on a global basis.
Top Related Stories
Click here for the latest broadcast news stories.