Broadcast News
11/03/2020
Mo-Sys Engineering To Launch TimeCam At NAB 2020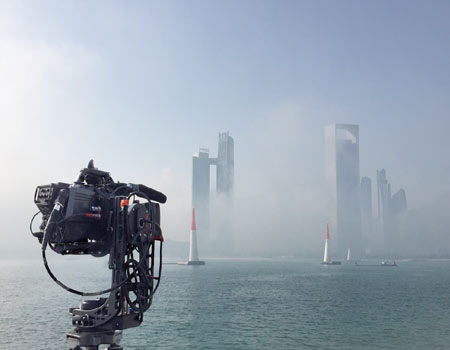 Mo-Sys Engineering will demonstrate how to remotely operate cameras on the other side of the world, without perceived delay, with the launch of TimeCam.
The solution will be shown onsite with a link between Mo-Sys's two points of presence at NAB, on booths C5047 and N5333 (Future Park). The two booths also allow Mo-Sys to reveal the latest in virtual studio and augmented reality: Unreal Unleashed.
TimeCam represents a triple benefit to production companies. First, there is the saving in cost and environmental impact in sending camera operators to site. Second, it means that the most in-demand operators can be much more productive, providing excellent coverage at a live event each day rather than losing time through travel. Third, it means that you can add cameras to your coverage without adding headcount: for instance, a downhill ski race might have eight cameras along the course, with one operator controlling cameras 1, 3, 5 and 7 and a second controlling 2, 4, 6 and 8.
As well as unveiling TimeCam, Mo-Sys will also demonstrate its flagship virtual studio technology StarTracker, which uses a constellation of dots on the studio ceiling as a camera tracking system. This is now extensively used by many prestige broadcasters to provide the tracking for augmented reality studios and is increasingly being built-in to studio cameras.
Whereas most virtual studios use a proprietary graphics system which in turn uses the Unreal gaming engine from Epic Games, StarTraker Studio (in a 19" rack) now features the plug-in Mo-Sys VP which we like to call Unreal Unleashed, a direct interface between the camera tracking and the UE4 render engine. Through the plug-in, control is direct, and no other software layer is wrapped around the Unreal Engine allowing full access to the latest UE4 features.
At NAB, the complete system will be demonstrated as a turnkey package including the computer and video hardware. In a small, wheeled-rack cabinet there is sufficient power to render for 16 concurrent 4K cameras in real time, using just two render engines and one Ultimatte keyer.
www.mo-sys.com
Top Related Stories
Click here for the latest broadcast news stories.