Broadcast News
24/02/2020
Cobalt Digital To Display openGear Compatible Products At NAB 2020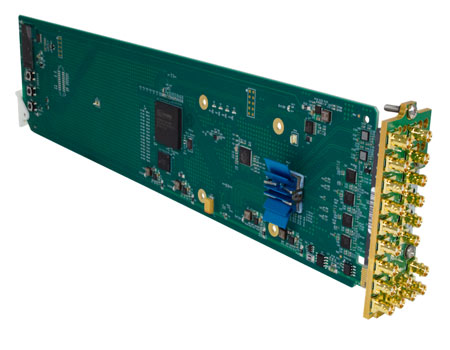 Cobalt® Digital will feature a line-up of openGear compatible products at NAB 2020 that will highlight a new card-based router series that takes flexibility to a new level, a mini frame that answers the industry need for a space-saving chassis but doesn't compromise functionality and can be operated remotely, and a range of distribution amplifiers that answer the rise of 4K with the ability to distribute 12G-SDI signals within a Rackspace.
The new solutions will be demonstrated alongside Cobalt's entire platform that is designed to help Broadcasters transition to IP, 4K, HDR, the cloud, and beyond.
Cobalt's new 9942-RTR series of 12G/3G/HD/SD-SDI/ASI/MADI routers provide a high-density card-based solution for openGear® with a design specifically optimized for 12G support that fits in a compact 2RU frame. Unprecedented flexibility, ease-of-use and seamless integration make the series exclusive within the platform.
In addition to standard openGear DashBoard™ support, the series offers built-in Ethernet ports for IP-based protocols such as Cobalt's ReFLEX and SW-P-08. The 9942-RTR also offers serial and GPIO interfaces.
BBG-1300-FR – A mini openGear® frame when space is an issue
Cobalt will introduce a mini frame that fills a need when space is an issue and functionality can't be compromised. The BBG-1300-FR is a 1/3 rack width 1RU openGear® compatible frame capable of housing up to two cards. A built-in network card is Included with the chassis allowing openGear cards to be controlled and monitored in DashBoard™.
Using the 1RU tray mount, up to three BBG-1300-FR units can fit onto a single 1 RU - perfect for high-density installations when a 2RU frame is not feasible. The BBG-1300 can be employed in remote locations as a standalone when a full-size 2RU 22 slot openGear frame is not required. The integrated LCD buttons and control knob makes status monitoring and network setup a breeze.
Cobalt will be highlighting a series of distribution amplifiers that distributes 12G-SDI signals within an openGear® frame in response to the rising demand for 4K. The new 9915DA-1x16-12G 12G/6G/3G/HD/SD-SDI 1x16 Reclocking Distribution Amplifier supports an input channel which is distributed to 16 DA outputs. The 9915DA-1x16-12G also offers optional SFP support for fiber input and DA outputs.
Cobalt's 9915DA-2x16-XPT-12G is a 12G/6G/3G/HD/SD Quad-Channel Multi-Rate Reclocking DA with x4 Output Crosspoint that supports two input channels which can be crosspoint-routed up to 16 DA outputs.
The Cobalt 9915DA-4x16-XPT-12G 12G/6G/3G/HD/SD Quad-Channel Multi-Rate Reclocking DA features the same x4 Output Crosspoint but supports four input channels which can also be crosspoint-routed to up to 16 DA outputs.
The 9915DA-4x16-XPT-12G and 9915-2x16-XPT-12G both include optional SFP support to expand the signal reach beyond the limits of coaxial connections.
www.cobaltdigital.com
Top Related Stories
Click here for the latest broadcast news stories.