Production News
17/09/2019
Urban Tails To Premiere On RTÉjr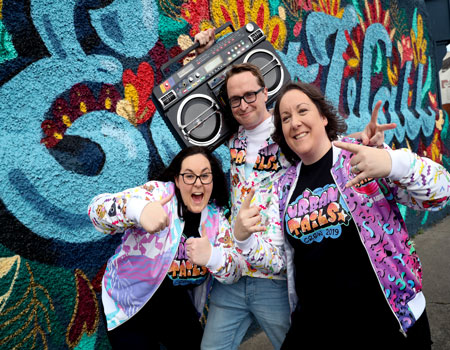 Irish animation studio Pink Kong Studios has announced that its first original preschool series, Urban Tails, will premiere on RTÉjr on 30th September.

The series, which has been in development since 2015, consists of 26 two-minute episodes and seeks to educate preschool children about the animals that live in urban environments.

Urban Tails will be the central series in RTÉjr's autumn preschool schedule and is a unique take on the urban animal kingdom. Each episode is a brand-new music video filled with funny and factual character-driven content, inspired by the classic hip-hop and RnB music videos of the 1990's. The animal characters ooze plenty of street attitude and present the viewers with a unique take on urban wildlife. Through musical rhyme children find out what life is really like for the creatures living amongst us in our cities.

The first series of Urban Tails has been produced by Pink Kong Studios and is written by Aoífe Doyle & Leo Crowley and directed by Aoífe Doyle. The show is funded from RTÉjr, Screen Ireland and the Broadcast Authority of Ireland. It is expected to land its first international sale in the coming weeks and Pink Kong Studios is already seeking to advance a second series.

Commenting on the launch of the show, director and writer Aoife Doyle of Pink Kong Studios said: "We've never had so much fun doing a series! It's been amazing to see these cool animal hip-hop tunes written by myself and Leo Crowley come to life on screen. It's been a dream project, mixing our love for 90's music and animation in one fun colourful package. Everyone involved poured a lot of love into the project, and we can't wait for the little ones and their parents to tune in and enjoy this awesome show."

Eimear O'Mahony, RTÉ Executive Producer said: "The great thing about Urban Tails is that not only are the kids going to be having a little bop along to it, but you are definitely going to pull in the parents with the nod to hip hop classics as the soundtrack. It's a really cute animation with a killer soundtrack!"

Niamh Herrity, Chief Executive of Pink Kong Studios said: "The animation industry is growing and is very strong in Ireland currently, Pink Kong Studios is one of the newer studios on the block, but we like to think with the quality of our work and the creativity in the studio we can certainly make our stamp. Animation is one of those industries that are slow burners in terms of revenue, however creating the show- Urban Tails this has really given us the opportunity to expand the team and give us some form of security, it is a real milestone for us and one that we managed to achieve in the first five years."

The music for the Urban Tails is composed by multi-Emmy Award winning composers Rich Dickerson, who has worked on iconic shows such as Scooby Doo and Tom & Jerry.

Top Related Stories
Click here for the latest broadcast news stories.