Broadcast News
06/09/2019
Fletcher Standardises New Sony HDC-P50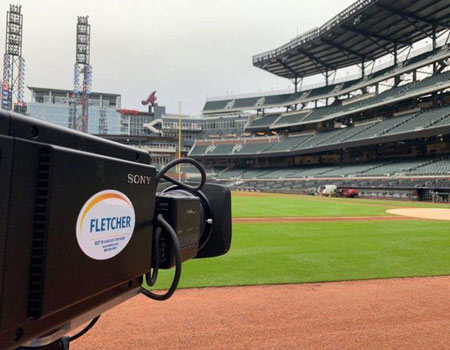 Fletcher Group has standardised the new Sony HDC-P50, a versatile 4K/HD/HDR/HFR system camera in a portable form factor.
Due to its size and adaptability, the camera has already been used to capture numerous high-profile sporting events including MLB's All-Star Game with Fox and ESPN, as well as the U.S. Open with Fox, in addition to Wimbledon, to name a few.
Dan Grainge, President and CEO of Fletcher Group, who helped start the company nearly 30 years ago, was instrumental in the selection of Fletcher's latest fleet of Sony cameras, the HDC-P50 POV cameras. Boasting a 3-chip 4K Global Shutter imager with native 4K(UHD) resolution and High Dynamic Range enabling HDR capture, and a wide colour gamut, the new camera packs a powerful punch in a lightweight, easy to transport body. This is precisely why Grainge and his team at Fletcher felt the HDC-P50s were the missing piece for their live productions. Fletcher's Sony HDC-P50 in-use
"Fletcher has been a longtime Sony supporter and an embracer and early adopter of cutting-edge technology. We are proud to work alongside Sony to push for the next unique and innovative products," explained Grainge. "We chose the all-in-one HDC-P50s to replace our reliable workhorse Sony HDC-P1s. From a cost versus capabilities perspective, we found the versatility this camera offers to be superior to anything else on the market. From 1080p HDR to 4K and a variety of high-speed recording applications, we can provide more information and options that enhance the depth and detail of our content. Additionally, the camera is easy to use, quick to turn on and provides the stated quality out of the box, which is important."
As 4K and HDR production become more commonplace, having the flexibility to capture robust and enhanced imagery provides tangible advantages to production companies. Grainge finds it beneficial to shoot in 4K, even if a broadcast will be shown in HD. "Recently we shot Wimbledon on seven P50s in 4K and there's tremendous value in having those 4K images for zoom extraction," he said. "We were able to zoom in on the ball after a play to make it look like the camera's physically panning, tilting and zooming because of the cut-out that we're getting by recording the 4K information."
He also finds HDR presents a new world of possibilities. "We also just used the P50s on the MLB All-Star Game in both 1080p and 1080p HDR and the versatility they offer is not available in any other current box camera," Grainge continued. "While HDR is currently focused on premier events, when we're using it, the quality and depth we're seeing shine through. We are seeing the capacity and benefits of HDR in all of the areas that we had hoped – from light differences, high contrast and different paint or colour capabilities that offer much more depth. Simply, it brings a better image to the screen."
Another benefit of the HDC-P50 is its compact size. This enables the program producer to shoot from new locations and vantage points.
As Fletcher embraces its place within the NEP ecosystem, cameras like the P50 are helping them collaborate. "This is the first time we can take a camera and match it to the NEP truck cameras without upconverting or cross converting, without colorizing it – essentially without compromise," Grainge explained. "In years past, we had not been able to match the higher quality of the truck camera, but now we can go in and be truly one to one and offer the same quality camera that the truck is using."
Another aspect of the HDC-P50 that Fletcher values is its imager which also offers lens flexibility. Of this asset, Grainge noted: "The P50's 3-chip imager allows us to shoot in 4K and use the same lenses we would on our other 4K cameras. This eliminates the need for adapters or additional lenses while keeping the camera sleek, portable and small."
www.pro.sony.eu
Top Related Stories
Click here for the latest broadcast news stories.