Broadcast News
27/11/2018
Cantemo And NMR Announce Integration Between Cantemo iconik And Brightcove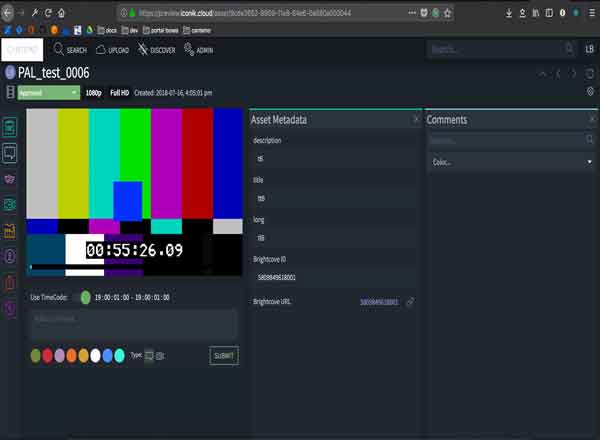 Cantemo and NMR have announced an integration between Cantemo iconik and Brightcove, the leading provider of cloud services for video.
Cantemo iconik is a cloud-based platform for managing, sharing, editing and collaborating on video. It keeps media assets organised, secure, and searchable thanks to video intelligence capabilities and support for complex metadata. Using a hybrid architecture, assets can be stored in the cloud, on-premises, or as a mixture of the two, whilst enabling full access to the entire library when needed.
Brightcove's video platform is a comprehensive solution that meets the full range of video publishing and distribution needs. It simplifies the delivery of content across devices, formats, and platforms, whilst offering content providers the ability to push fast, dynamic user experiences. Brightcove's flexible and comprehensive API supports a host of integrations to suit every workflow, now including iconik.
The integration between iconik and Brightcove allows users to prepare content within iconik before pushing directly to Brightcove for web publication and monetization. Assets housed within the iconik repository can be ingested into Brightcove, as well as the Brightcove metadata synced back to the original iconik asset.
The integration was made possible by systems integrator, NMR. The company has over 26 years' experience solving media workflow challenges for some of the world's most recognised brands. To enable the ingestion of iconik assets into Brightcove along with original metadata, NMR used a combination of iconik's webhooks, AWS Lambda and Brightcove'' API. This allows iconik users to publish content directly to Brightcove and then have a link to the content in Brightcove added to the iconik asset's metadata.
Warren Peel, Managing Director, NMR, commented: "Both Brightcove and Cantemo iconik offer a feature rich set of APIs, making it really simple to build integrations. The resulting solution is extremely powerful."
Parham Azimi, CEO, Cantemo, commented: "The combination of iconik with Brightcove gives our users a streamlined workflow, enabling them to get their content published fast so they can begin to monetise it as soon as possible."
Mark Blair, SVP International, Brightcovesaid: "Media companies are challenged with ever-growing content libraries. In order to properly monetise them they need to be able to easily discover media. iconik enables them to keep that content organised, and integrating with Brightcove means it can be easily tracked even once published."
Top Related Stories
Click here for the latest broadcast news stories.