Broadcast News
26/11/2018
Green Hippo German Distributor Leads All Star CAST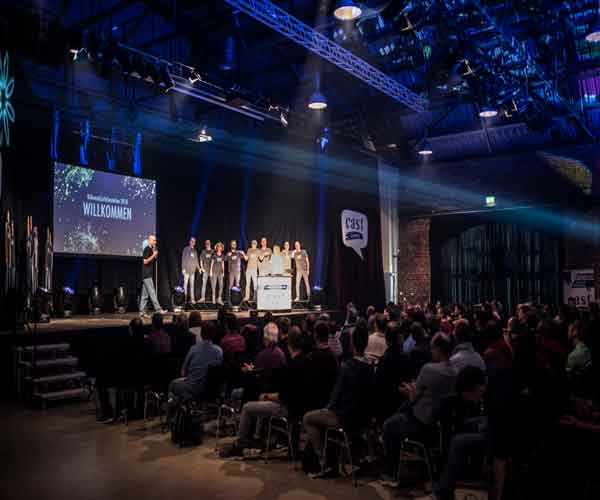 Green Hippo occupied a key role in its German distributor's 2018 open day. A key date in the industry calendar, the event attracted an impressive 250 industry professionals. Hosted by Christian Pies, Sales Director at Cast, the day included a programme of talks from industry professionals, as well as, of course, regular stops for 'kaffe and cookies'.
Green Hippo technology was a running theme throughout the day. Green Hippo's Tom Etra-Senior-Technical Sales Manager and Suzy Stenning- Product Specialist – travelled to the event and the venue included a space dedicated to demonstrating Hippotizer's abilities with 3D projection mapping. Green Hippo technology also prominently featured in the lecture given by Thomas Gerdon of GERDON design. Thomas, a Hippotizer owner and user, presented a practical lecture on the design and programming of lighting systems in the combination of media servers and lighting desks on stages and in the studio – explaining that it does not always have to be either-or.
Another Green Hippo user, Manfred 'Ollie' Olma, owner and managing director of mo2 design, drew on his extensive experience – including light and stage designer for Bon Jovi, Prince, and Led Zeppelin – to offer invaluable comment during the day's final discussion panel.
Marking Green Hippo's first event with its new German distributor, the day was a resounding success. The high-quality talks and presentations were a match for the high-quality audience, and the day was a great opportunity for visitors to gain first-hand experience of Green Hippo as well as hear insights from longtime Hippotizer users.
www.green-hippo.com
Top Related Stories
Click here for the latest broadcast news stories.