Broadcast News
22/08/2018
Universal Electronics To Share Early Successes In Smart Home Market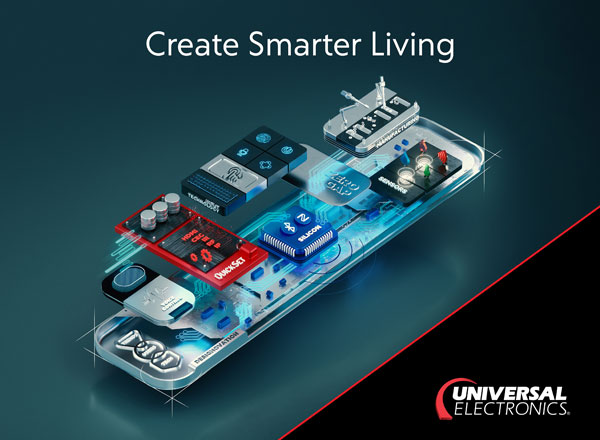 Universal Electronics Inc (UEI) is to share its latest ventures into control and sensing technologies for the smart home at IBC 2018.
On stand 1.C41, the company will be demonstrating its solutions designed to bridge the home entertainment and connected home ecosystems
UEI will be sharing its early successes as it transforms into a key player in the connected home market. This strategic evolution builds on UEI's core strengths in audio video products, making way for smart entertainment systems which use voice remote control front ends. It looks forward to a future when all devices throughout the home will be connected using advanced 2-way wireless communication.
UEI will show its latest 'Designovation' concepts to demonstrate its design expertise and provide an insight into the company's vision. This will focus on the consolidation of home entertainment, the Internet of Things and the smart home. Placing the end user at the centre to provide simplicity using Context Awareness, Voice and Adaptive Control with use cases to discover, recognise, and interact with smart devices and sensors inside the home with ease.
Concepts VOTA and WAKE will be among the products demonstrated for the first time at the show. These products bridge home entertainment with the smart home by combining traditional voice remote with smart speakers, as well as addressing privacy concerns relating to non-intrusive occupancy and user detection.
Both concepts have evolved from the push-to-talk voice technologies deployed in mass market to further demonstrate how UEI is continuing leading the transition to voice. Through continuous innovation to improve user experience, VOTA's raise-to-talk technology senses when it needs to listen and respond to the user to carry out TV commands, as well as supporting 'handsfree' voice by placing the remote up right on the coffee table and detecting when it needs to go into its idle and privacy mode, just by being placed horizontally.
WAKE, UEI's integrated assistant offers a compelling experience, acting as the 'ultimate smart controller'. It runs on two-way communication that intelligently and personally responds to questions. Integrated into a smart home set up, it combines entertainment, personalisation, security and energy to support not only viewing commands but also improving the viewing experience – for example, automatically adjusting the temperature according to the weather outside.
Further to its Designovation concepts, UEI will showcase a range of new products launched over the last 12 months using unique UEI technologies such as its UE878 dual radio RF SoC, UAPI framework and QuickSet to name a few.
QuickSet® is the world's only automated discovery, setup and control software. Over the past 10 years, it has made the universal remote control a simple and user-friendly way to manage the connected home in more than 500 million devices installed today. Currently it has a run rate of two billion transactions on QuickSet Cloud per year and growing.
A further highlight is UEI's Android TV-based remote control platform. With Google becoming a real force in the broadcasting value chain, UEI has developed additional products to meet the demands of this fast-changing market.
"These are interesting times for UEI," said Vice President Sales - Subscription Broadcasting, Kuldip Singh Johal. "The connected home is not just emerging, it has arrived. In fact, this year, we expect revenues from home automation products and technologies to reach more than $130 million and this bodes well for our long-term plans.
"In light of this, we embarked on a major technology and product initiative, utilising our success in creating innovative and intelligent AV system control products, to create a new hardware, software and services platform to bring together smart home functionality and AV control into a simple unified experience," added Kuldip Singh Johal.
At IBC2018, visitors will be able to experience demos of the latest UEI technologies through advanced control, hands-free voice and sensor technology in everyday use cases.
Visit the UEI team in hall 1 on stand C41 at IBC2018 at RAI, Amsterdam 14-18 September.
www.uei.com
Top Related Stories
Click here for the latest broadcast news stories.