Broadcast News
22/08/2018
Seven New Courses Announced For NFTS Scotland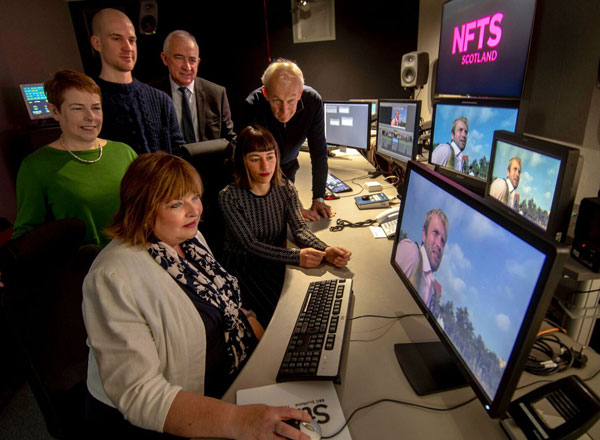 Seven new courses have been announced for the National Film and Television School (NFTS) Scotland.
The new hub, based at BBC Scotland in Glasgow, was officially opened in April 2018 by Cabinet Secretary, Fiona Hyslop. Since then, eight courses have been completed and 70 participants have come through the doors, half of which have received bursary-supported places. The new courses put the School on track to grow to an annual number of 450 course participants per year.  
New courses include:
• Certificate in Marketing and Distribution
• Diploma in Production Accounting
• Factual Editing
• Introduction to Visual Effects
• Film Location Sound Recording
• Multi-camera Directing
• Production Management for Documentary

Participants who completed NFTS Scotland's inaugural course, 'How Stories Work in Documentaries', led by NFTS Co-Head of Documentaries, BAFTA nominated, Peter Dale, gave effusive reviews such as BBC Scotland's Heather Kane who described the course as "one of the best courses I have enjoyed in my twenty-year media career".  
Participants are also starting to secure commissions since completing the course including for Channel 4 News and the new BBC Scotland channel scheduled to launch in 2019.  
Alison Goring, Head of NFTS Scotland said: "It's fantastic to look back over the past 12 months since the First Minister announced funding to support NFTS Scotland and celebrate what we have achieved. It's been a joy to meet so many satisfied course participants and to build positive partnerships locally who share our vision to support talent development by offering first-class training for the screen industries in Scotland. It's exciting to announce new courses today and I look forward to welcoming many more participants over the coming months."   
Culture Secretary Fiona Hyslop commented: "The NFTS's decision to set up a subsidiary in Scotland recognises the potential for growth in the Scottish film and television sector. Supporting the NFTS is a clear sign of the Scottish Government's ambition to foster our own talent and skills in Scotland in partnership with the sector. It will develop people with the skills we need to grow our screen businesses and meet employers' needs. It is great to see high-quality tailored courses underway that are already helping talented people based in Scotland make even more of all the opportunities opening up in screen."  
Donalda MacKinnon, Director, BBC Scotland added: "We are delighted at the success of NFTS Scotland in its first year and we look forward to continuing to support the new courses here at BBC Scotland."  
All NFTS Scotland courses are specifically designed to meet the growing needs of film, television and games production companies and independent practitioners across the country. The NFTS is an acknowledged global leader in the provision of postgraduate, high-level, creative and technical skills for the audio-visual industries. It was recognised with the Outstanding British Contribution to Cinema BAFTA at the 2018 ceremony and was the first film school to be awarded the 2018 Queen's Anniversary Prize for Higher and Further Education.  
Diversity and inclusion are key priorities for NFTS Scotland and there is a joint aspiration that a third of all places in the first two years will be bursary-supported places. To that end the BBC and the Scottish Government is making a contribution to a bursary fund which will meet the costs of these places and ensure that participants will be drawn from a broad range of backgrounds.  
First Minister of Scotland, Nicola Sturgeon announced funding of £475,000 in her keynote speech at last the 2017 Edinburgh International Television Festival, to support plans for NFTS Scotland while the BBC's contribution of premises and facilities for NFTS at Pacific Quay builds on the corporation's additional investment of £40m a year in Scotland to provide additional and more relevant output for its audiences.  
To register for courses and apply for bursaries, visit
www.nfts.co.uk/scotland
.
Top Related Stories
Click here for the latest broadcast news stories.