Broadcast News
31/05/2018
MuxLab Unveils New 4K Signage Player With Complete CMS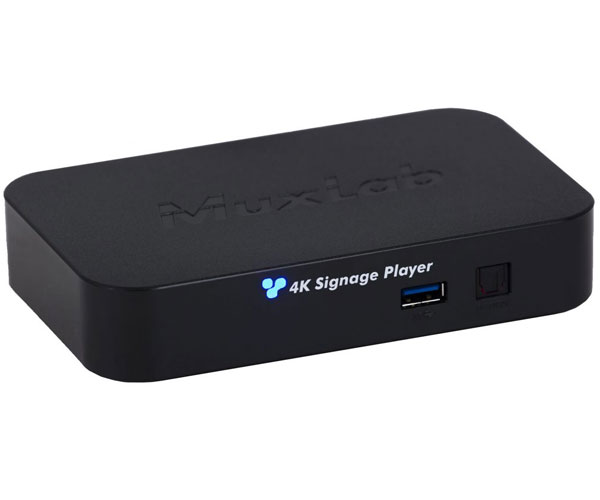 MuxLab has unveiled its new 4K Signage Player (model 500769) with complete Content Management Software (CMS).
This new software system allows users to create, manage and control AV from a variety of sources, including content streaming via the H.264/H.265 codec over a local Ethernet network, Internet, internal memory and external USB 3.0 memory devices. It was designed for an exceptional user experience, is simple to use and allows the user to gather, organise and schedule content. The Signage Player can up-scale content and output it at 4K@60Hz (4:4:4) resolution. The selected source may be viewed on a connected display or can be implemented with many sources and displays to create a comprehensive video wall riding on a IP-based infrastructure via an Ethernet switch.
At InfoComm, 4K content is to be delivered from the Signage Player to MuxLab's HDMI over IP H.264/H.265 PoE Extender (model 500762) to create a video wall using a 1G Ethernet switch. The MuxLab Extender offers advanced features such as multi-view capability and IP-based camera support for a compelling visual experience.
"Because the 4K Signage Player works in conjunction with MuxLab's entire AV over IP product family to distribute content in a versatile manner, it offers a complete, end to end solution, taking AV content from various sources through the Ethernet and to the displays wherever they may be located," said MuxLab's Director of R&D, Marc Bohbot. "Plus it boasts a simple graphical interface that makes the user experience in planning and implementing digital signage a breeze."
Content can be autonomously scheduled for the week, with additional weeks ready to automatically play, offering a "set and forget" functionality. Users can create multi-view window layouts and assign audio, video and images, including text banners and logos, to each. Content can be scheduled in minutes, simplifying the time-intensive task of curating content for long periods of time. Content can play simultaneously from multiple sources, including its internal memory, a USB memory stick, from a local Ethernet network and the Internet.
MuxLab will be on booth N538 at InfoComm in Las Vegas, 06-08 June.
muxlab.com
Top Related Stories
Click here for the latest broadcast news stories.