Broadcast News
26/04/2018
RED And Take 2 Tech Day Approaches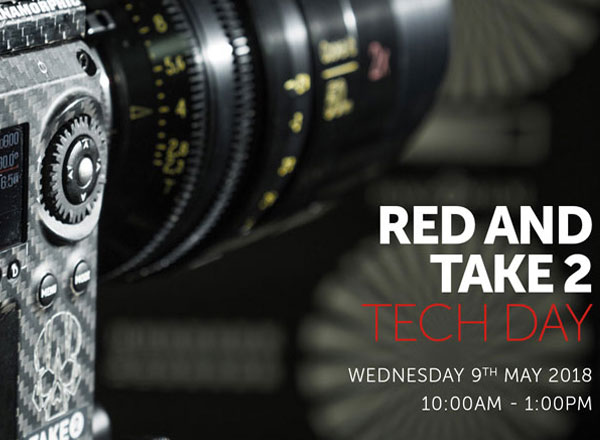 RED and Take 2 Tech Day is soon approaching on May 9, with RED demos and a Q+A planned for the event.
The event takes place in Take 2 Film Services Ltd in London next month, and has special guest Dan Duran from Red coming over from Hollywood, California. He has been with the RED team since 2007 and is the face of many RED Tech videos and RED's workflow expert. Most recently, he worked with clients such as Netflix, Fox, Warner Brothers, YouTube, Amazon and many more.
He will present "RED Workflow and its new Image Processing Pipeline". Visitors will learn about the colour science behind RED's Image Processing Pipeline (IPP2), which offers a completely overhauled workflow experience, featuring enhancements such as better management of challenging colours, an improved demosaic algorithm, smoother highlight roll-off and more. There will also be a discussion on the modern RED workflow and a comprehensive overview of the advantages of High-Resolution RAW REDCODE files.
The show takes place 10am-1pm and covers a variety of topics including:
RED:
• Resolution - Understanding the importance of high resolution capture and how to best take advantage of shooting 8k.
• RAW - Utilising the RAW capabilities of the R3D file format from camera all the way through post.
• REDCode - How RED's compression works and deciding on the best data rate for your productions.
Workflow:
• On Set & DIT - Covering file size, data transfer, and transcoding.
• Editing - Understanding the advantages of some of the most popular editing workflows.
• Coloring - Covering the best practices from cinematic to broadcast distribution.
IPP2:
• Visual Enhancements - How RED has improved on its RAW image capture.
• Standardising Workflow - What is REDWideGamutRGB and Log3g10?
• Separating Technical from Creative - How 3D LUTS and CDLs are being implemented into RED Workflow.
You can register for the show here:
take2films.co.uk/news/2018/04/25/red-and-take-2-tech-day/#utm_source=4RFV&utm_medium=online&utm_campaign=T2REDevent
.
Top Related Stories
Click here for the latest broadcast news stories.