Production News
04/04/2018
BBC Drama 'Shakespeare & Hathaway' Recommissioned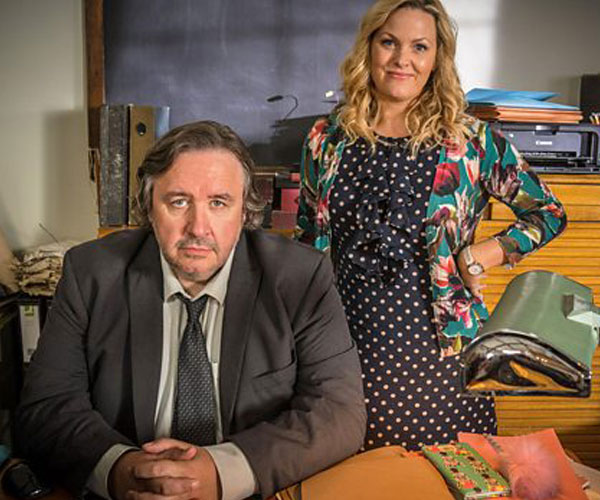 BBC One Daytime drama 'Shakespeare & Hathaway' has been commissioned for a second series.

The first series was met with exceptional audience feedback and widespread critical acclaim.

Created by Paul Matthew Thompson and Jude Tindall, Shakespeare & Hathaway sees Frank Hathaway (Mark Benton), a hardboiled private investigator, and his rookie sidekick Lu Shakespeare (Jo Joyner) form the unlikeliest of partnerships as they investigate the secrets of rural Warwickshire's residents.

Shakespeare & Hathaway - Private Investigators is the most watched Daytime series on catch up (+0.4 million) to date, and has had a huge volume of traffic on iPlayer with over two million requests so far. In the programme's first week it was in the top 10 of all BBC content on iPlayer.

The series, produced by BBC Studios in Birmingham, averaged 2.11m viewers and a 26.4% audience share (against an average viewership of 1.0m/16% at this time on BBC One), making it the biggest drama launch for Daytime since Father Brown in 2013.

Dan McGolpin, BBC Controller of Programming and Daytime, said: "This new series has amused and delighted so many viewers with its inspired story-telling, intriguing characters and knowing comedy - all set in Shakespeare country. I'm very pleased to confirm that it will return to both BBC One Daytime and iPlayer early next year."

Will Trotter, Head of Daytime Drama, BBC Studios said: "Series two will see Frank and Lu investigating kidnapped canines, locked room mysteries, dead ringers and doppelgängers, vice, fraud, extortion and identity theft. Our detectives will continue where they left off putting the world to rights as they snoop and pry. More ado in Stratford-Upon-Avon."

"I'm totally thrilled to have the chance to visit Lu, Frank and Sebastian again in the beautiful surroundings of the Warwickshire countryside. We were really blown away by the support the first series garnered and we can't wait to see what they get up to next," said Jo Joyner.

Mark Benton added: "I'm so thrilled to be making the show again. The reaction was phenomenal and hopefully series two will be even better. Can't wait."

Shakespeare & Hathaway - Private Investigators is produced in Birmingham and was commissioned by Dan McGolpin, Controller BBC Programming and Daytime.

The series is set and filmed in Stratford-upon-Avon. The second series will begin filming in September 2018. BBC Worldwide is the global distributor.
Top Related Stories
Click here for the latest broadcast news stories.