Broadcast News
28/03/2018
NTP To Introduce Advanced Routing Solutions At NAB 2018 Launches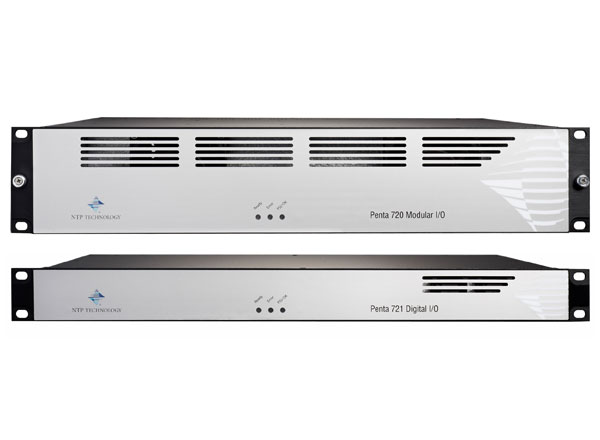 NTP Technology has announced that it will introduce advanced routing solutions with its latest Dante/AES67-compatible versions of the established Penta 720 and Penta 721 rack-mounting audio routing interfaces at the 2018 NAB Show.
These new units allow more Dante channels and provide full compliance with the new Dante Domain Manager software for management of multiple network domains and IP subnets.
NTP's Penta 720 is a 2U modular audio interface with a variety of analog and digital interface options. The units have dual power supplies and support hot swap of the eight configurable interface cards. The Penta 721 is a 1U digital-only unit, with dual power supplies, that can be configured with various build-in options.
Broadcasters deploying NTP's Penta units can manage and route Dante channels with greater speed and simpler functionality using DADman control software, NTP's VMC database driven control system or a third party system.
With increased focus on network security in today's broadcast environments, location trucks and performance venues, access to AoIP control can now be restricted for typical users and the network can be pin-locked via Audinate's Dante controller. Using NTP's Penta system as the routing matrix makes all relevant input and outputs easily accessible for routing, as well as for summing in the Penta summing matrix.
NTP Technology director Mikael Vest, said: "This innovative routing solution configures all Dante channels according to the need for fixed connectivity and IP tielines, and then uses that matrix on the Penta for the dynamic routing.
"In cases where multiple subnets are a part of the network configuration, the Dante Domain Manager can be used for bridging audio between subnets and also for distributing PTP clock information. Domains can be set up to target defined groups of units across the network. Within the domains, a Penta can be used for routing as well as audio input and output."
ntp.dk
(MH/LM)
Top Related Stories
Click here for the latest broadcast news stories.