Broadcast News
08/03/2018
ENCO To Reveal Groundbreaking Captioning Solution At NAB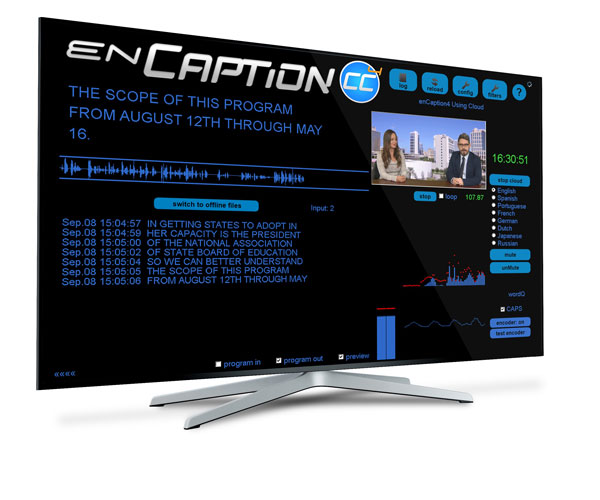 ENCO is to unveil its latest enCaption automated closed captioning solutions at the 2018 NAB Show.
The enCaption4 system is to feature new updates alongside the new automated captioning at the show.
enCaption4 delivers immediate on-air impact in news, sports and other live programming by surpassing the speed of professional human captioners. This higher speed benchmark closes the gap between live speech and the corresponding caption display.
Key technical differentiators also bring substantial improvements across accuracy, newsroom integration and speaker identification. enCaption4's latest enhancements boost accuracy to 90% or higher, which far surpasses compliancy requirements in live captioning. These accuracy improvements are born through enCaption4's advanced speech-to-text engine, which leverages breakthroughs in machine learning technology to develop a deep neural network approach to voice recognition.  
New for NAB is enhanced integration to Newsroom Computer System (NRCS) MOS integration. This further improves accuracy by empowering enCaption4 to learn correct spellings from news scripts and rundowns prior to live newscasts, and without manual intervention. Additionally, enCaption4's multi-speaker identification speaker eliminates crosstalk and other on-air confusion when multiple hosts and guests are contributing to live broadcasts. enCaption4 identifies speech from each speaker through dedicated microphones, and processes each speaker separately.  
The flexibility of enCaption4's deployment options within automated production workflows also ensures optimal cost-efficiency and operational flexibility. And with support for more than 20 languages, enCaption4 stands alone as the industry's most affordable, flexible and versatile captioning solution for dynamic, high-pressure live production environments.
"Whether it's deployed on-premises or as a cloud-based solution, enCaption4 is ready to go whenever the need for captioning arises, at a fraction the cost of live captioning services," said Ken Frommert, president, ENCO. "It is by far the most powerful captioning solution available today, and is unrivaled across speed, accuracy and performance."  
Mr Frommert adds that should broadcasters need to cut into a regularly scheduled program with breaking news or weather alerts, finding qualified live captioners to step in on short notice is often difficult to do.  
"Since closed captioning on broadcast TV is legally mandated, our customers remain in compliance and avoid costly penalties - all while offering better service to their hearing-impaired viewers," he said. "This simply amplifies our unparalleled value proposition."
www.enco.com
Top Related Stories
Click here for the latest broadcast news stories.