Broadcast News
09/02/2018
JVC At BVE 2018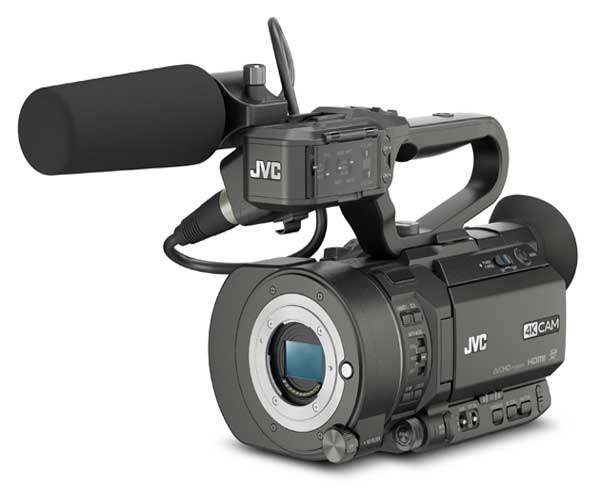 JVC will be demonstrating its complete end-to-end live production solutions at BVE 2018, including live-streaming camcorders for news and events, cine-style shooting and studio production.
The GY-LS300CHE Super35 camcorder now offers live 4K 4:2:2 50P output, ideal for cinematography, while the GY-HM200ESB now features a built-in full-screen graphics overlay – with no additional hardware required – ideal for sports coverage, news production and live events. JVC will also show the KY-PZ100 PTZ camera which, like all JVC's IP cameras, can be controlled by the RM-LP100 controller, and is ideal for a wide range of remote broadcast and live event applications.
Alongside the cameras will be JVC's range of production monitors, including the latest 4K models, plus Streamstar's live IP production system and JVCVIDEOCLOUD online video and live streaming platform.
As part of the full camera range on display, two upgraded models in the 600 Series of ProHD mobile news camcorders, the GY-HM620 and GY-HM660, will be shown. Both offer class-leading low light performance, high quality imaging and full network connectivity.
JVC will also be demonstrating a120fps HD slow motion recording upgrade for its GY-HM170, GY-HM200 and GY-LS300 4KCAM camcorders.
The JVC range of production solutions is complemented by the latest line-up of DT- series high-grade production monitors, including a number of models and incorporating 10 bit IPS panel technology, and with a choice of 4K and HD models. Long a leader in cost-effective production monitor solutions, JVC's latest ranges reinforces the brand as the No.1 choice for high quality production monitoring for broadcasters, OB, and post-production applications.
As the first PTZ camera in JVC's line-up, the KY-PZ100 PTZ camera is sure to be popular for live production, events and sports. When connected to a Wi-Fi adapter or 3G/4G modem via USB or directly connected to a LAN, the KY-PZ100 streams up to 1080p/50/60 video with two-channel audio using SMPTE 2022 forward error correction (FEC). The camera offers low latency streaming at various bit rates and its integrated Zixi technology delivers reliable streaming performance with FEC and automatic repeat request (ARQ) as well as adaptive bit rate control.
As live production requirements move from traditional operator-driven studio cameras towards robotic control, then the combination of the KY-PZ100 camera and Streamstar IP switcher allows cost-effective live production to be realised in sports, concert and other live production environments.
Adding to the range of solutions is JVCVIDEOCLOUD, a complete content management, hosting and delivery platform for independent producers, corporate and institutional use.
Further information on JVC's full range of professional video solutions, is available at www.jvcpro.co.uk.
Information on the JVCVIDEOCLOUD is available at
www.jvcvideocloud.com
Top Related Stories
Click here for the latest broadcast news stories.