Broadcast News
05/01/2018
Guntermann & Drunck Present Latest Solutions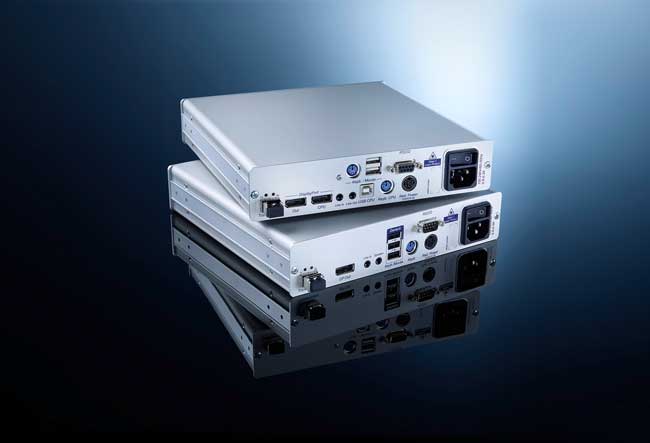 Guntermann & Drunck (G&D) will be in attendance at ISE 2018 next month (Booth 10-N182), demonstrating the latest KVM equipment for control room applications.
Among its product line-up will be the DP1.2-Vision and DP1.2-VisionXG. These systems can extend 4K and 8K video resolutions at 60Hz over long distances without loss or latency.
Complex matrix installations made easy
With KVM it gets interesting when you do not just remove computers from workstation and extend their signals to the control room, but when complex matrix installations need to be interconnected. Therefore, several computers can be operated remotely via different, simultaneous workstations. High-resolution, 4K video signals can be easily extended, switched and distributed through the matrix. The DP1.2-Vision KVM extender is fully compatible to, and can be combined with, the digital matrix switches ControlCenter-Digital and ControlCenter-Compact, and integrated into complex IT installations.
Interoperability and compatibility – highlights for control rooms
A KVM matrix can be combined with control room equipment like video wall controllers, multi-viewers or media controls such as AMX, Crestron, controlling large screen walls or projection areas. As a result, staff in control rooms are able to focus on the right system, ensuring uniform operation of multiple systems. Multi-level processes and complex procedures can be linked in a single user interface. The KVM system provides the required sources and enables their operation. In combination with further media equipment, individual video sources can be enlarged over several screens, or only special image sections can be displayed if required. Various presets can be pre-configured and called up at the push of a button.
User-friendly functionalities such as CrossDisplay-Switching, the push get-function, the broadcast feature for tally lights and scenario switching make G&D systems efficient to use. With their KVM devices, G&D have developed a basis for the integration and interoperability with existing AV technology.
When working with many different displays or operating large screen walls from different sources, CrossDisplay-Switching is ideal. The function allows users to switch between channels simply by moving the mouse. The mouse acts as if on a "virtual desktop" and can be moved seamlessly across the connected displays, automatically switching to the corresponding computer.
The push-get function simplifies the control of video walls and improves teamwork in control rooms. With this function, users can move the screen contents of a target to (push) or get it from the display of another console, e.g. a large screen projection.
Scenario switching is particularly suitable for monitoring different computer constellations, as is often the case with day and night shifts. Scenario switching makes it possible to store pre-defined setups of switching conditions (e.g. day/night scenario). The selected switching status are saved in a script in the matrix system and can be called up and executed by a single command for the corresponding workstation or for the entire system. High reliability of the systems is guaranteed by integrated SNMP and the monitoring function.
ISE 2018 will be held from 6 – 9 February at the RAI, Amsterdam.
Image: DP1.2-Vision.
www.gdsys.de
(JP/MH)
Top Related Stories
Click here for the latest broadcast news stories.