Broadcast News
14/12/2017
MTFX & The Makeup Kit Join The Bottle Yard's Creative Hub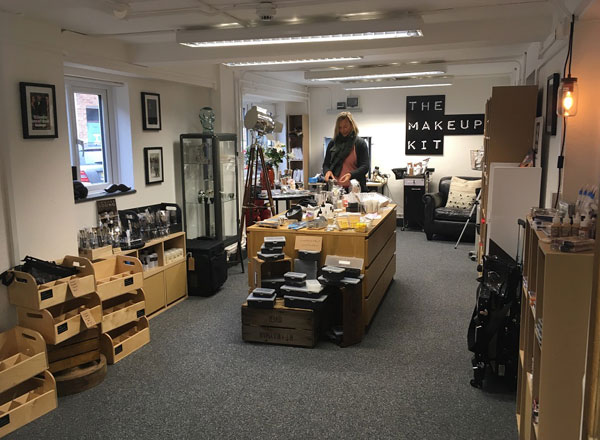 An established special effects business and a newly launched stockist of professional film & TV makeup and hair supplies are the latest two companies to take up business residence in The Bottle Yard Studios' creative hub.
With headquarters in Gloucester, MTFX deliver special effects for TV, film and events offering a range that includes snow, confetti, fire, rain, pyrotechnics, water, smoke, wind and mechanical effects.
Managing Director and Company Founder Mark Turner is an experienced pyrotechnician and special effects designer with a Diploma in Pyrotechnics, qualified in special effects explosives safety. He employs a team of eight that operate one of the largest ranges of special effects equipment in the UK. Specialised equipment built by MTFX can create bespoke effects across pyrotechnics, pneumatics, hydraulics, aquatics, electronics, lighting and sound.
The company has worked on a number of productions based at The Bottle Yard Studios, including Poldark (BBC One), Deadly Dinosaurs (CBBC), The White Princess (STARZ/UKTV Drama) and Trollied (Sky1). Other recent TV credits include The Grand Tour (Amazon Originals), Call the Midwife (BBC One) and Casualty (BBC One).
Live event credits include Miranda Hart's UK Tour, Royal Shakespeare Company and English National Opera productions, as well as opening and closing ceremonies for the 2012 Olympic Games, 2015 FA Cup Final, 2014 Commonwealth Games and 2014 Winter Olympics. The opening of MTFX's Bristol branch continues a year of expansion, after the company set up a new Wales office in Cardiff this summer.
MTFX Managing Director Mark Turner said: "In 25 years of delivering internationally renowned special effects, I'm proud to say that MTFX has become one of the biggest local providers of snow, pyrotechnics, wind, rain and everything in between. Our work in Bristol and the South West has always been an important hub. As our workload and reputation in the region has steadily increased, with many projects based at The Bottle Yard, we've decided to commit to the site with a convenient and practical onsite facility that will enable us to provide better service for our customers. We look forward to continuing to offer Ingenious Special Effects to all productions at The Bottle Yard from our new branch, complete with comfortable meeting space and storage for tools and equipment."
Co-founded by business partners Pamela Haddock and Louise Fisher, The Makeup Kit is a professional stockist of makeup and hair products supplying designers working in TV, film and theatre. Both professional makeup and hair designers, Pamela and Louise have worked on an impressive number of titles during established careers spanning more than 30 years. Their joint credits include upcoming AMC drama The Terror (due for UK release in 2018), Poldark (BBC One), The White Princess (STARZ) and feature film The Adventurer. Haddock has been Emmy-nominated for her work on The White Princess (STARZ), Black Sails (STARZ), Agatha Christie's last ever Poirot: The Curtain (ITV) and The Scarlet Pimpernel (BBC), and BAFTA nominated for her work on The Life and Times of Nicholas Nickleby (Channel 4).
The pair launched the new business together after seeing a gap in the market for a pro makeup supplier based in the South of England outside of London. As well as professional film & TV makeup, powders, brushes, tools and hair supplies, The Makeup Kit also stocks the full range of special effects products required by designers, including artificial tears and perspiration, teeth staining, bloods, glues, hair, as well as silicone modelling to simulate 3D wounds and scars.
Co-Founder Pamela Haddock also said: "We've been aware for some time that designers working in the West or in Wales have had to travel all the way in to London to view products before buying, so we were keen to meet the demand for a pro makeup and hair store outside of the capital in the South. Our new Bristol HQ is conveniently based for designers working in the area needing to browse or source specialist products fast. We deliver to any location in the UK and overseas and buyers can of course order through our online shop, but it's fantastic to have our physical base here at The Bottle Yard alongside other companies in an environment where production is happening all around us."
Co-Founder Louise Fisher added: "Makeup and hair is a demanding creative discipline, designers have to be ready to solve all sorts of problems on set or stage immediately. We're launching with a range of bespoke Place Boxes and Set Bags designed to our own specification, which we know are ideal for transporting equipment and keeping it to hand all the time whilst working on a shoot."
Fiona Francombe, Site Director of The Bottle Yard Studios said: "It's been another busy year of growth within our tenant community, with five new businesses moving in over the past 12 months. The arrival of MTFX and The Makeup Kit further bolsters our offering to productions by bringing two new specialisms onto site. We're always keen to support new ventures alongside established companies that excel in their field; what all our tenants share is their high level of professionalism, accompanied by a passion to be located here in the heart of Bristol's thriving production industry."
A Bristol City Council initiative, The Bottle Yard Studios is located in Hengrove, South Bristol and is the largest dedicated studio facility in the West of England. 380 FTE jobs were generated on site in 2016, 83% (315) of which were filled by crew working on productions and 16% (60) created by the creative hub of business tenants providing specialist production services on site. Almost 65% of posts created benefited Bristol's local workforce.
thebottleyard.com/hub/on-site-tenants
Top Related Stories
Click here for the latest broadcast news stories.