Broadcast News
27/10/2017
Procam To Host Media Technology Day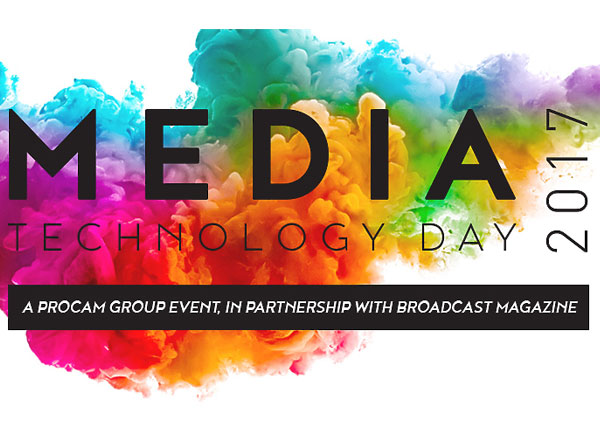 Procam has announced details of its Media Technology Day - an all-day exclusive industry event in partnership with Broadcast magazine.
Taking place at the luxury Ham Yard Hotel in Soho on 1st November 1st, the one-day event focuses on innovation in production and camera technology.
The event will comprise of:
• Seminars and panel discussions
• Networking opportunities
• Hands-on kit demonstrations
Seminar content will include case studies on high profile TV productions, feature films and commercials, and interviews with leading cinematographers and producers. Special commissioner panel sessions featuring decision makers from major broadcasters will also take place.
Showcase Of The Latest Kit:
Procam will offer attendees the exclusive opportunity to get your hands on the latest technology in the market. For the first time, Sony's VENICE is being shown publicly in the UK.
Attendees are invited to be one of the first to experience the latest development to the CineAlta line-up, along with the new and highly anticipated Panasonic EVA1 and Canon EOS C200.
RED will be showcasing the WEAPON 8K S35, with Take 2 also showing their latest offering from RED, the WEAPON 8K VV Anamorphic.
ARRI will be demoing the TRINITY, the latest addition to the ARRI camera stabilizer system range.
Lens enthusiasts will be pleased to see a range of Cooke lenses, including S7/i's, Panchro/I Classic's and Anamorphic/I SF coated lenses, along with a selection of rehoused lenses from True Lens Services.
Procam Projects will be showcasing a cine 4K multicam set-up with galleries, demonstrating their multicamera integration capabilities with exhibiting camera partners at the event. In collaboration with Timecode Systems, Projects will show how Timecode's wireless system can be used to automatically synchronise multiple sound and video sources effortlessly.
Plan Your Schedule For The Day:
• Doors open at 9:00 for coffee and a light breakfast
• 10:00 - 11:00 VariCam in Action, sponsored by Panasonic: An insight from leading cinematographers on their knowledge and experience in shooting drama series with the VariCam line-up:
– Guest Speaker: Kelvin Richard, DoP
– Adrian Pennington, Journalist/Editor (Moderator)
• 11:00 - 12:00 The Big Broadcast Debate – Future of TV Drama: There is a widely held perception that Netflix and Amazon, and big budget shows like Game of Thrones, have changed audience expectations when it comes to TV drama. To what extent is this true, how are British broadcasters and producers responding to this challenge, and where does UK drama go from here? This panel will also include a discussion on diversity, where the new drama ideas will come from, and the impact of Brexit on high-end drama.
Panelists include:
– Manpreet Dosanjh, Commissioning Executive, C4
– Martin Haines, COO, Kudos
– Frith Tiplady, Executive Producer
– Lisa Holdsworth, Writer, Deputy Chair of the Writers' Guild (Moderator)
• 12:00 - 13:00 Introducing VENICE, sponsored by Sony: Sony's next generation CineAlta motion picture camera
– Guest Speaker: Sebastian Leske, Sony Product Marketing Manager
• 13:00 - 14:00 Blurred Lines, sponsored by Splice Post: How multi-platform delivery is changing the way we think about post-production craft, technology and workflow
Panelists include:
– Leila Monks, Co-Founder, Antidote Productions (discussing 4K wildlife series, Mysteries of the Mekong)
– Claire Whalley, Managing Director, What Larks! (discussing scripted comedy series, Damned)
– Nic Knowland BSC, Director of Photography (discussing England Is Mine)
– Adam Dolniak, Head of Picture/Senior Colourist at Splice Post (discussing England Is Mine)
– Kate Higham, Facilities Director, Splice Post (Moderator)
• 14:00 - 15:00 Creativity in Motion, sponsored by ARRI: ARRI TRINITY & Camera Stabilizer Systems Masterclass
Guest Speakers:
– Curt Schaller, ARRI Product Manager
– Dom Jackson, TRINITY Owner/Operator
• 15:00 - 16:00 Planet Earth II, sponsored by RED Digital Cinema: How innovative technology meets inspirational creativity
Panelists include:
– Chadden Hunter, Producer/Director, BBC Natural History Unit (Grasslands sequence)
– Rob Drewett, Wildlife Cameraman, BBC Natural History Unit (Deserts sequence)
– Louis Labrom, Technical Coordinator, Planet Earth II (Cities sequence)
– Andy Quested, Standards Lead, BBC Design and Engineering (Moderator)
• 16:00 - 17:00 The World's Car of the Year, sponsored by Canon: Shooting 4K, HDR Commercials
– Guest Speaker: Brett Danton, Director/DoP
17:00 - 18:30 Networking over drinks in the Dive Bar
Registration for the event is open now and available
here
.
procam.tv
Top Related Stories
Click here for the latest broadcast news stories.