Broadcast News
09/08/2017
Sonnet Technologies Adds To Thunderbolt 3 Line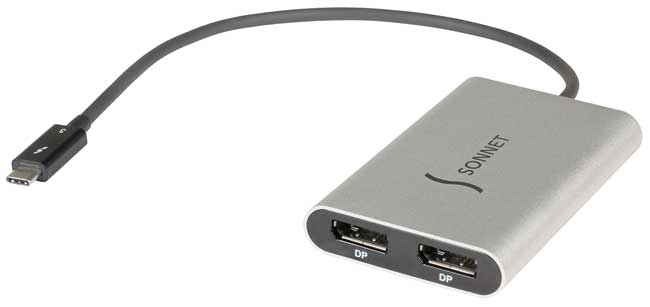 Sonnet Technologies has unveiled the latest addition to its growing Thunderbolt 3 product line – the Thunderbolt 3 to Dual DisplayPort Adapter.
The compact, bus-powered device enables users to connect up to two 4K UHD DisplayPort (DP) monitors, or one 5K DP monitor, to a single Thunderbolt 3 port on their computers.
Desktop computer users benefit from working with multiple monitors without having to connect to multiple ports on the computer. For users of thin and light notebook computers wanting to connect two large UHD monitors, an adapter to connect them is required – most laptop and notebook computers lack the DP ports featured on UHD monitors. Sonnet's Thunderbolt 3 to Dual DisplayPort Adapter is a plug-and-play solution for adding dual DP port connectivity to most computers with Thunderbolt 3 ports. Users plug in the Sonnet adapter to their computers, connect the monitors with standard DP cable, which is sold separately, and then configure the displays through the operating system.
The Sonnet Thunderbolt 3 to Dual DisplayPort Adapter supports up to two 4K DP monitors at 60 hertz or one 5K DP monitor at 60 hertz, and also supports monitors with lower resolutions, such as full HD 1080p (1920 x 1080) and 1920 x 1200, making it suitable for different home and office workspace applications. In addition, the Sonnet adapter's built-in audio support ensures that there's no need to connect additional cables to hear sound from the monitors. The adapter is also compatible with "active" DP-to-HDMI, DP-to-DVI, and DP-to-VGA adapters, enabling the connection of a wider variety of monitors.
Image: Sonnet Thunderbolt 3 to Dual DisplayPort Adapter.
www.sonnettech.com
Top Related Stories
Click here for the latest broadcast news stories.