Broadcast News
11/07/2017
BSN-UK – Regulation is Fun!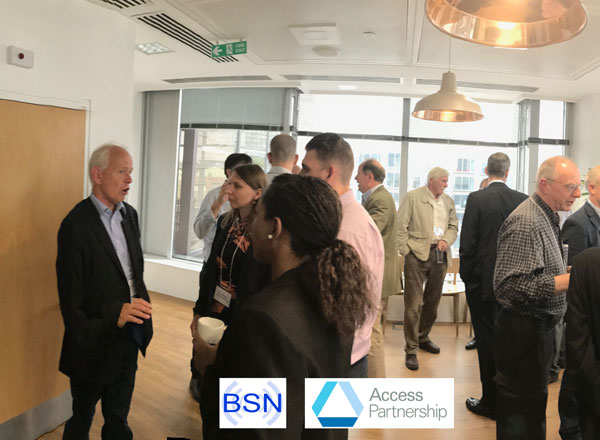 The BSN-UK regularly holds networking events that usually look at a range of technological advances across the broadcasting and satellite industry. But regulation is something that touches us all in our everyday professional activities, yet is one of the often invisible and unappreciated aspects of the industry.
For this event we gathered the membership for a meeting at the London office of Access Partnership to find out just how much fun the regulatory aspects of the industry can really be as well! No, really! Our presenters were Anna Guégan and Daphné Joseph, who are Managers of Policy and Market Access with Access Partnership, a firm which seeks to guide and influence world policy telecoms regulatory decision-making with a staff of 40 across 6 global offices.
Anna and Daphné gave some practical examples where their tailor-made database of regulatory decisions and decision makers for some 190 countries has proven to be vital in gaining a VSAT license in some far-far-away land or obtained approval for in-flight technology. The presentation made the juxtaposition of how a country could be seen as an island paradise, with white sand, azure seas and perfect skies from one viewpoint … and a regulatory, time consuming, frustratingly uncooperative bureaucratic one from another!
Access Partnership comprises three teams. The Technical Policy Team devises technical arguments to support advocacy, and gains acceptance for a position across multilateral technical groups. It also performs technical due diligence and spectrum campaigns at the ITU. The Public Policy Team delivers outcomes in nation proceedings, multilateral events, and designs and executes issue-specific campaigns. The Market Access team advises on market compliance, conducts regulatory studies and drives campaigns for approval for products and services.
The presentation led to lively discussion and debate from the membership with plenty of Q & A from the floor, followed by networking with refreshments courtesy of Access Partnership. In the end, we all agreed that regulation surely could be fun – but we'd probably leave it to Access Partnership
accesspartnership.com
to sort it all out…
bsnuk.org
Top Related Stories
Click here for the latest broadcast news stories.