Broadcast News
10/07/2017
Source Distribution Appointed Exclusive Distributor In UK And Ireland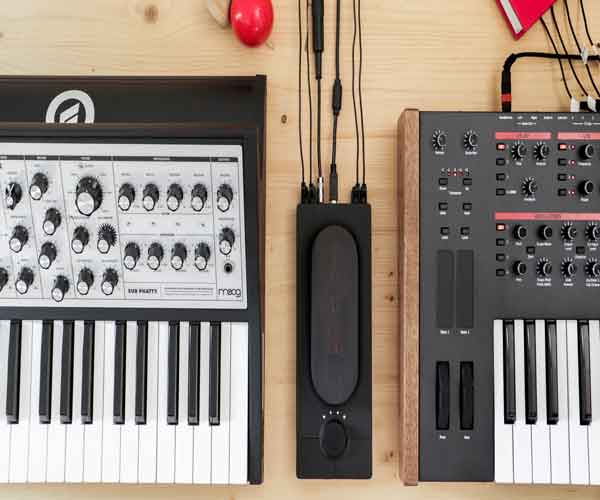 Source Distribution has been appointed as the exclusive distributor in the UK and Ireland for Expressive-E products, maker of the innovative Touché expressive instrument and controller.
Touché is a new category of instrument which offers a unique way to experience, play, and create electronic music. Touché translates gestural control, from broad movements to an extremely light touch, into complex modulation in a fashion that would be difficult to achieve via traditional input methods such as dials, pads and buttons.
Right out of the box, customers can take advantage of the multi-dimensional capabilities of Touché by installing the included Lié virtual instrument, which works standalone or in all modern Digital Audio Workstations. These two products work seamlessly together, with Lié providing a library of evocative tones, pads, basses, leads and percussion which take full advantage of the extraordinary control possibilities of Touché.
Critically, owing to provision of USB, MIDI output and four Control Voltage outputs, Touché is able to add value to nearly any third party device. It adds a profound level of immediate, expressive control to third-party software via USB, but can also operate standalone to enhance MIDI-controllable synthesizers, and output control voltages to compatible hardware such as vintage synthesizers and modern modular synthesizers.
Source Distribution Brand Manager Alex Theakston said: "We've been absolutely blown away by the results we've seen Touché is capable of - there are extraordinary, evocative patches in Lié, and you can be up and running out of the box with them in minutes. But more than this, once you start to interface Touché with other devices, it also has the power to unlock new sounds from all your old equipment. Touché does not replace any existing device, it works in combination with your existing synthesizers, MIDI keyboards, software and modular synths, enormously enhancing what they do in a way that is highly configurable and flexible. A Touché would enhance any studio. As such, Touché is an excellent complement to Source's existing portfolio of compatible synthesizer brands, and we're excited to be bringing this forward-thinking new brand to the UK and Ireland."
www.expressivee.com
Top Related Stories
Click here for the latest broadcast news stories.