Broadcast News
03/07/2017
Label 1 Deploys Multiple Canon EOS C300 Mark II Broadcast Cameras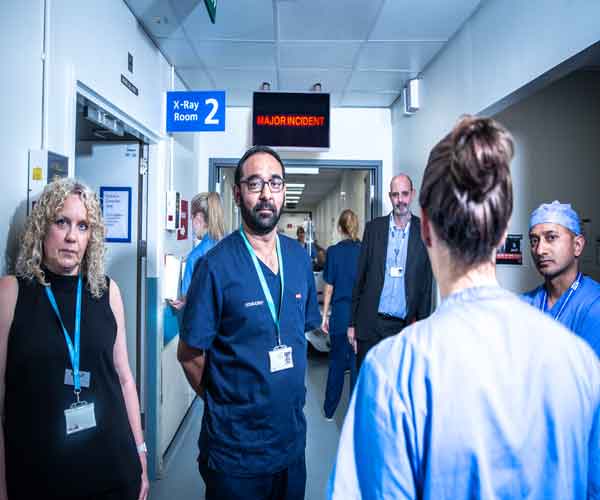 To create the unique behind the scenes look at the UK's National Health Service (NHS) for the series, Hospital, London-based independent television production company, Label1 deployed multiple Canon EOS C300 Mark II professional broadcast cameras.
Having been used during the production of the first series, the EOS C300 Mark II was again brought in to capture everyday life throughout the Imperial Trust's five London hospitals for the new series. The first episode aired on BBC Two on 20 June.
Throughout the production, producers set out to make a programme that was candid and bold and featured hospital staff dealing with real issues of working in the National Health Service. The first episode of series two documented how St Mary's Hospital in Paddington dealt with victims from the March 2017 Westminster terror attack.
Producers at Label1 wanted to mirror the high-intensity nature of the NHS so implemented a very fast turnaround production workflow. Operators using the EOS C300 Mark II were able to capture content quickly while remaining unobtrusive and getting the highest-quality images possible. The series were shot with seven two-person camera teams consisting of a self-shooting producer/director and an assistant producer.
The EOS C300 Mark II cameras were operated hand held for the majority of the shoots. This meant that users had easier access to more sensitive areas of the hospital with patients and their families, but could still capture visually rich imagery.
To accompany the cameras, all the programme's producers were given Canon EF 24-105mm f/4L IS USM and EF 16-35mm f/2.8L III USM lenses to use as standard. The EF 24-105mm features Canon's three-stop Image Stabilizer (IS) which makes it ideal for the kind of handheld work needed throughout Hospital. This let the operators use shutter speeds of up to three stops slower than normal with no increased image blur from camera shake. Williamson said the lens operated really well in Hospital's "fast-moving environments likes the Major Trauma centre."
The four episodes of series two of Hospital are currently airing weekly on Monday nights on BBC Two.
www.canon.co.uk
Top Related Stories
Click here for the latest broadcast news stories.