Production News
09/06/2017
BBC Two Acquires 'Feud: Bette And Joan'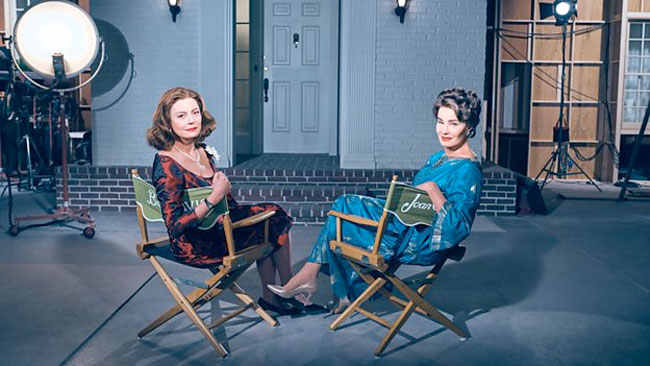 BBC has announced that it has acquired the eight-part series, Feud: Bette and Joan.
The drama, which focuses on the famous rivalry between Hollywood stars Bette Davis and Joan Crawford, begins with their collaboration on 'What Ever Happened To Baby Jane?' and continues after the cameras stopped rolling. The series looks at how the icons were subject to ageism, misogyny, and sexism, all amidst hanging on to success and fame.
Jessica Lange stars as Joan Crawford and is joined by Susan Sarandon as Bette Davis. The cast also includes Catherine Zeta-Jones as Olivia de Havilland, Kathy Bates as Joan Blondell, Judy Davis as Hollywood gossip columnist Hedda Hopper, Alfred Molina as director and producer Robert Aldrich, Stanley Tucci as Warner Bros. studio head Jack L. Warner, Jackie Hoffman as Mamacita, Crawford's housekeeper, and Alison Wright as Pauline, Aldrich's assistant. 'Feud: Bette and Joan' also stars Dominic Burgess as Crawford and Davis' co-star Victor Buono, Sarah Paulson as Geraldine Page, and Kiernan Shipka as Bette Davis' daughter, B.D.
For the series, Ryan Murphy serves as Executive Producer along with Executive Producers Tim Minear, Alexis Martin Woodall and Dede Gardner of Brad Pitt's Plan B Entertainment. The series is produced by Fox 21 Television Studios and distributed by 20th Century Fox Television Distribution.
The series was acquired from 20th Century Fox Television Distribution and is due to air on BBC Two later this year.
Patrick Holland, Controller of BBC Two, said: "Drama on BBC Two has to stand out for its authorship, unique vision and exceptional craft so I am delighted that Ryan Murphy's brilliantly realised series Feud: Bette and Joan is coming to the channel. It features some wonderful performances, a flawless recreation of period and a delicious unravelling of a personal drama that had a massive impact on modern cinema. Feud is a real treat."
Sue Deeks, BBC Head of Programme Acquisition, added: "BBC Two viewers will relish this critically-acclaimed portrayal of Old Hollywood and a famously combustible yet poignant relationship – it is a zesty cocktail of glamour, wit and grit."
David Smyth, Senior Vice President and Managing Director, Twentieth Century Fox Television Distribution (TCFTVD), commented: "Feud: Bette and Joan is a whip-smart series with fantastic performances by two of today's greatest performers, which we're sure will captivate and delight audiences. BBC Two is the perfect home for our next series from creator Ryan Murphy, whose The People vs O.J. Simpson: American Crime Story, just won the BAFTA after airing last year on BBC Two."
Image: BBC Media Centre.
www.bbc.co.uk/mediacentre
(JP/MH)
Top Related Stories
Click here for the latest broadcast news stories.