Broadcast News
13/04/2017
Riedel's Bolero Solution Heads To NAB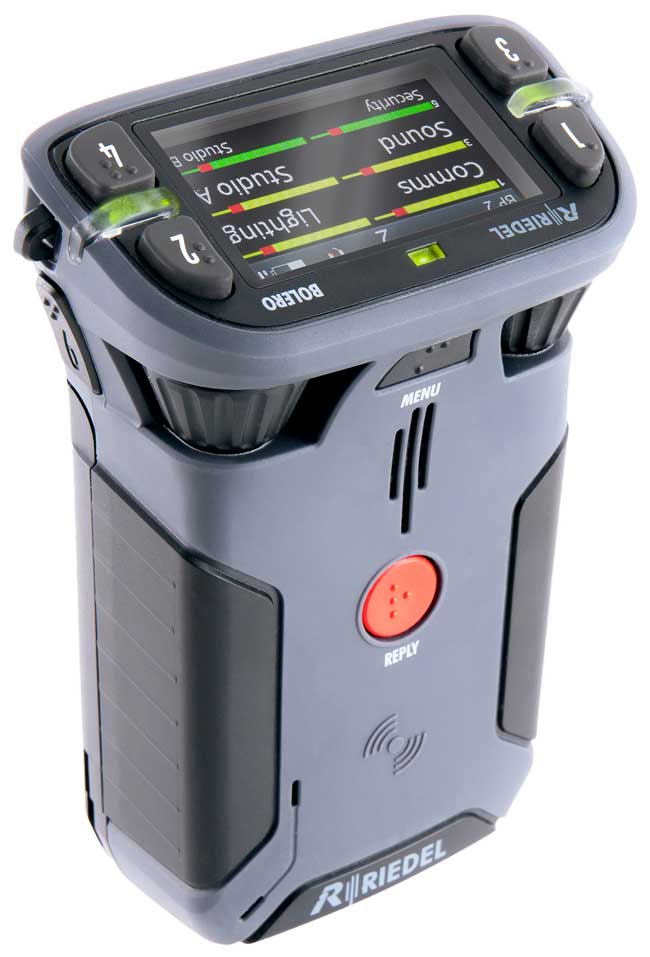 Riedel Communications will highlight a number of its latest innovations at NAB Show 2017, Booth C4337.
One solution making its North American debut is the company's new wireless intercom solution, Bolero. An expandable, full-roaming, DECT-based intercom system in the license-free 1.9GHz frequency range, Bolero is fully integrated into Riedel's Artist digital matrix intercom platform. It offers features and connectivity that can be applied three ways; as a wireless beltpack, as a wireless keypanel, and as a walkie-talkie radio. The system runs over a standards-based AES67 IP network, and its decentralized antennas connect to AES67 switches and then to Artist frames equipped with AES67 client cards to provide a fully integrated point-to-point intercom ecosystem with roaming capabilities.
Also making its debut at NAB will be Riedel's MediorNet MultiViewer App – an all-new virtual multiviewer app based on the MediorNet MicroN hardware. It is designed to work within the MediorNet network and delivers the benefits of a decentralized signal network by enabling multiviewer hardware to be placed anywhere it is needed. It leverages the network for sources and removes the extra layer of gear and complexity that would be required by a large monolithic router.
Riedel is also expected to unveil the new HandsFree App for its SmartPanel. With the HandsFree App running on SmartPanel, users can pair their iOS or Android handsets to their SmartPanels using Bluetooth technology. The app then enables the routing of phone audio directly through the Riedel Artist digital matrix intercom system.
A new addition to Riedel's SmartPanel multifunctional user interface family will also be demonstrated at NAB 2017.
Thomas Riedel, CEO at Riedel Communications, said: "At this year's NAB Show, attendees will experience how Riedel is continuing to push the edge of innovation in real-time signal distribution, networking, and intercom. New solutions range from the category-defining new Bolero wireless intercom to the all-new MediorNet MultiViewer App for our versatile MicroN hardware module, and now — coming at the show — an all-new version of our highly functional SmartPanel interface."
Image: Bolero DECT-based Wireless Intercom System.
www.riedel.net
(JP)
Top Related Stories
Click here for the latest broadcast news stories.