Broadcast News
01/03/2017
KWVA-FM Refreshes With Lawo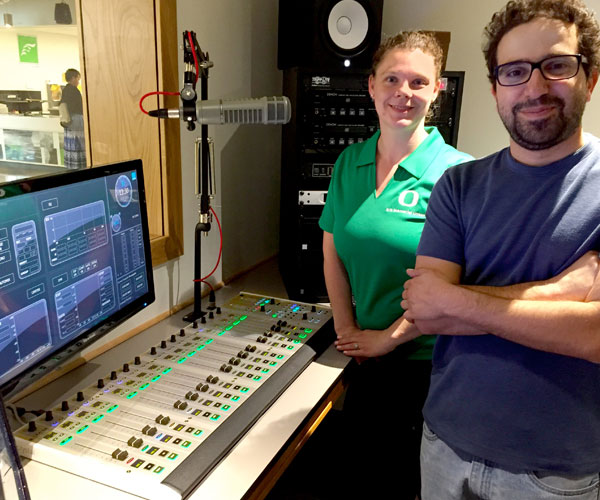 The University of Oregon's KWVA-FM in Eugene, Oregon has completed the construction of brand-new broadcasting facilities using consoles and routing infrastructure from Lawo.
KWVA's studio rebuilding project brought new equipment to four studios plus the station's TOC. The studios were rebuilt with two 16-fader and two 8-fader Lawo Crystal control surfaces, all powered by Lawo Compact Engines. Additionally, KWVA's TOC received a Nova 17 digital router to integrate audio sources from around the plant.
Chief Engineer Ali Abdul-Sater, said: "The Lawo Crystal and Nova 17 system fit the KWVA workflow because they can be customized to do anything! In a facility with over 150 volunteers, with a mix of sports, news, and music programming, we really needed that ability. The slim, easy to use Crystal consoles were another key point in our decision."
Bill Bennett, Lawo radio Sales Engineer for North America, also said: "Being part of an educational system and also providing community access, KWVA needed mixers flexible enough to accommodate, and built to stand up to, a wide variety of operators.
"Control was another requirement. KWVA staff needed the ability to switch the transmitter feed between the studios on-the-fly. We helped them accomplish this by programming a switch control into the consoles' GUI using Lawo VisTool screen-building software, which provides metering, source selection and other options for the Crystal consoles. With VisTool, the main studio switch can now be activated by touchscreen from any of the studios."
And General Manager Charlotte Nisser, added: "We are very pleased with our new Lawo Crystal boards. The Lawo system provides the necessary flexibility and variety of functions for our diverse station environment without unnecessary user complexity. Plus they look clean, and have such a minimal footprint — just power and network cables. Such a change from our old set-up."
Lawo has a full line of AES67-compliant control surfaces, virtual radio mixing software, routing systems and control software designed to provide more capability for less cost.
lawo.com
(MH/LM)
Top Related Stories
Click here for the latest broadcast news stories.