Broadcast News
17/02/2017
Ikegami To Focus On 4K At BVE 2017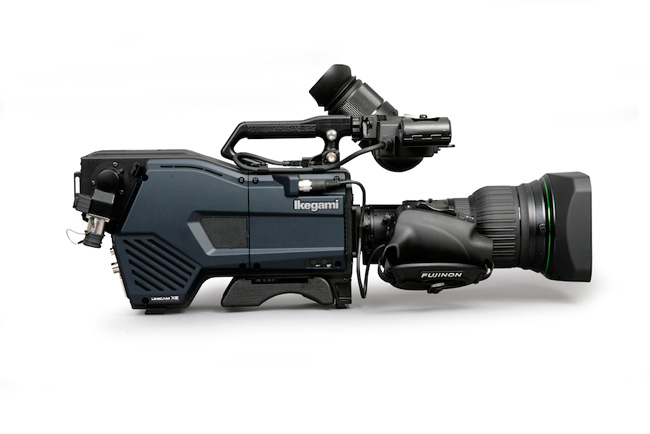 Ikegami will demonstrate its 4K-native 2/3 inch UHK-430 portable broadcast camera.
Making its UK debut, the UHK-430 incorporates three newly-developed 4K-native 2/3 inch 8 megapixel CMOS sensors and delivers a colour depth of 10 bits per pixel. The UHK-430 also includes a B4 bayonet mount compatible with 2/3 inch HD & 4K lenses.
Other features include the UHK-430's two piece construction. The camera has an optical block supporting options such as 35mm 4K sensors or high frame rate sensors. The head can be detached and operated up to 50 metres from the camera body, allowing easy deployment on support devices such as long-reach camera poles.
At the core of the UHK-430 is Ikegami's 5th generation high-speed video processing engine, the AXII, reducing power consumption and delivering a range of features. The AXII also provides the processing for Ikegami's newly developed transfer characteristic, which delivers high contrast for a wider dynamic range (HDR).
Another UK first is Ikegami's BS-98 – the new half rack size base station. Providing rack-mountable fiber transmission units for UnicamHD series cameras, 4K UHD and 3G/HD-SDI output are supplied simultaneously when connected with a UnicamHD camera (such as the UHK-430). The BS-98 is equipped with a built-in 4K SR CONV video processor to provide a 4K (3840 x 2160) live output, allowing not only upscaling from HD signal but also Super Resolution with image enhancement in the Ultra HD band.
Ikegami will exhibit on Stand J26 at BVE 2017. Alongside the UHK-430 will be a series of the company's reference monitors including the HEM-2570W, HLM-2450WB, HLM-1751WR, HLM-1705WR and HLM-905WR.
www.ikegami.de
(JP/LM)
Top Related Stories
Click here for the latest broadcast news stories.