Broadcast News
18/10/2016
So You Need To Hire A TV Studio?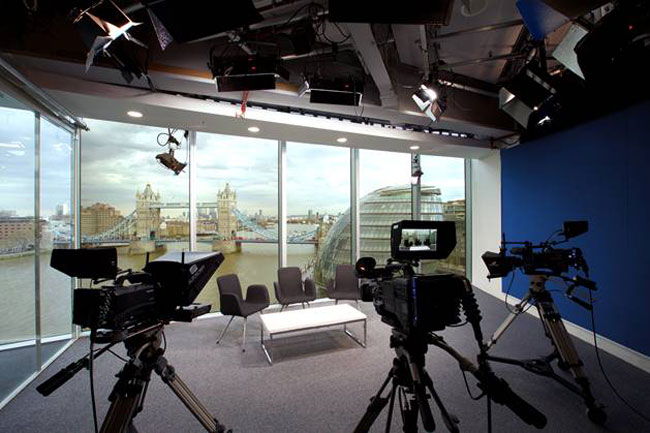 Great news – your new studio based show has been successfully commissioned, or your client has finally signed off the proposal for a studio based production. But, what next? If you're not lucky enough to have your own in-house studio, you need to find a studio to hire.
So where do you start? Before you do anything, there are three key elements to consider – location, facilities and price!
Location
Location is an obvious one, but it may not just be a case of 'it needs to be in London' – there may be other factors to consider. Does the studio need good access to and from a particular area, road, train station or airport? Have you got guests or talent flying into a particular airport? For example, if your on-screen talent is flying into Heathrow, a studio in the heart of East London might not be the best option. If you've got lots of guests, crew and audience for your project, is the studio easy to find? Do you have any high profile guests that need private access into the studio and/or security?
Facilities
A TV or webcast studio's facilities can be the make or break of your decision. Studios come in all sorts of shapes, sizes and with all sorts of features and facilities. To help whittle down your potential studio options, work out what it is you need from a technical point of view. Is it a multi-camera production? Is it single camera? Are you providing any of the required broadcast equipment or do you want the studio to supply the equipment?
In terms of the production itself, what size studio do you require? If you're making a large light entertainment programme, you'll likely need space for an audience, which immediately narrows down your studio options. What about set and lighting? Does your production require a set? Not all studios are large enough to house a set – or they may not have appropriate access to get your set in. Lighting can be key to any production. Do you want to walk into a pre-lit studio or are you bringing in your own Lighting Director and team?
Are you looking for any unique or special features in the studio, such as capability to drive a car into the studio, an infinity cove, a chroma key backdrop, or do you need a video wall or a view of a live city backdrop? Are there any specific technical requirements for your production? Is it a live webcast and therefore you need good Internet access or is it a live broadcast and you need broadcast connectivity such as a fibre circuit to BT Tower?
Once you've established the key technical facilities the studio needs, there'll likely be some other deal breakers to be wary of. Does the studio have guest WiFi? It sounds silly but good Internet access could be vital. Is there printing available? What about parking? Is there a kitchen available? Do you need catering? Is there a green room for guests?
Price
In the end, the deciding factor always comes down to money! But remember, the decision on which studio to hire can't be solely based on price – there is lots of factors to consider, and every studio is unique in its own way and may offer different things than its competitors. All of the above factors will contribute to the price you're quoted and any reputable studio should offer pricing that's in line with comparable studio facilities.
So that's a quick tour of hiring a studio. Remember to check out 4RFV's studio hire listings page –
www.4rfv.co.uk/directory/1180x1/studio-hire
. If you need help sourcing a studio, get in touch with us at Trickbox TV and we'll be happy to help.
www.trickboxtv.com
This article is also available to read at BFV online here, page 63.
(JP/LM)
Top Related Stories
Click here for the latest broadcast news stories.