Broadcast News
10/08/2016
Megahertz Delivers New UHD Links Truck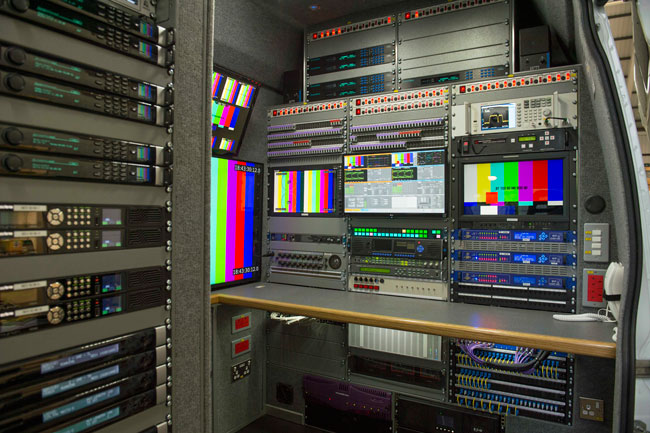 Megahertz is to deliver a new hybrid fibre and satellite UHD links truck to BT TVOB at IBC2016. The new truck, known as TES52, will be on display in the outside broadcast space at the show, Stand O.C01.
The TES52 is the first truck in the UK with the ability to transmit HD and UHD/4K via fibre and satellite simultaneously. Megahertz worked alongside BT TVOB engineers to provide a flexible UHD vehicle that is capable of transmitting pictures both through its roof-mounted, Ku-band, satellite antenna and via BT's own fibre network, which connects over 150 major sports venues and news outlets across the UK.
The TES52 is a development from the TES51 UHD truck that Megahertz built in 2014, offering greater encoding capability. It is also fitted with two 750W amplifiers and built on a 7T Iveco Daily chassis.
In addition, the TES52 monitors multiple signals via a 4K Miranda multi-viewer on to a Sony 4K screen, with two 4K/HD Marshall monitors for additional qualitative signal monitoring and an HD Phabrix for test signal generation and checking. The truck supports up to 16 fibre links in HD mode, or three 4K/UHD and four HD links, using the intelligent video networking platform (IVNP) and BT's MPLS (multi-protocol label switching) network. The on-board, 192-port Snell router is capable of handling a mixture of 4K, 3Gb/s and HD baseband signals, and ASI transport streams.
Neil Huggins, Senior Product Manager, BT Media and Broadcast, said: "We're incredibly proud to be at the forefront of UHD and 4K live events broadcasting in Europe. The capability that TES52 has to deliver in HD and UHD/4K via both fibre and satellite could not have been achieved so lucidly without our solid partnership with Megahertz. They consistently deliver flexible, rugged and timely solutions that truly address our customers' current and future requirements. Megahertz has played a big part in our ability to stay ahead of the game when it comes to industry technology transitions."
www.megahertz.co.uk
(JP/LM)
Top Related Stories
Click here for the latest broadcast news stories.