Broadcast News
28/07/2016
Taking Broadcast Production On The Road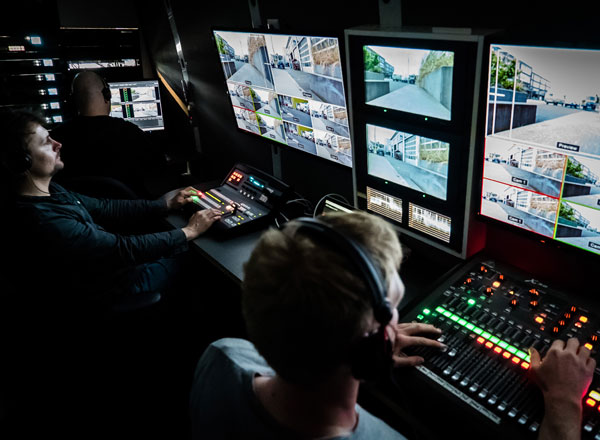 With a team of more than 45 production professionals, Cologne based Filmwerk has gained a reputation as one of Germany's leading media production specialists. Growing demand for multi-cam productions from its clients, led Filmwerk to develop a mobile offering.

"Putting Filmwerk's production capabilities on wheels was a logical development in expanding the company's services," Thorsten Feldman of Filmwerk's integrator, Systempiloten, said.

"Space is quite often tight on location, so the practicality of being able to drive up to a set with a ready to production gallery was appealing."

Flexibility was a key requirement for the outside broadcast (OB) SNG, as Filmwerk produces such a wide range of content; from commercials to live streaming to recording for episodic television series. Thorsten was tasked with developing a multi purpose vehicle that could be adapted to manage both live-to-tape and live stream OB workflows.

"Our goal was to deliver a solid, yet adaptable vehicle that would not only surpass the demands of Filmwerk's current projects, but would also be a future proofed platform to assist the team in years to come."

Having had a huge amount of previous success with Blackmagic Design, Thorsten was confident in basing the OB workflow on the same proven technologies.

"Blackmagic hardware has formed the backbone on many client projects, and it has always proven itself to be highly reliable, and robust, even in the most demanding of circumstances," he said.

Designed based on a file based workflow, the goal was to allow Filmwerk's production team to produce content with a live on tape workflow, where each ISO camera feed and program signal is recorded onto either one or multiple ingest servers, or a live production set up, where the program mix can be streamed directly from the van.

Currently the van is equipped with six Sony XDCAMs, however the solution is scalable. Each camera is equipped with an ATEM Camera Converter, providing talkback and tally, and allowing Filmwerk to use optical fiber to send camera signals back to the OB. A series of ATEM Studio Converters receive the optical fiber and convert back to SDI.

The ISO camera feeds, together with pre-recorded VTs, graphics and additional media are taken into an ATEM 2 M/E Production Studio 4K switcher, where the vision mixer produces the program mix using Blackmagic's ATEM 1 M/E Broadcast Panel. 

Thorsten explains that the van has been equipped with extensive preview monitoring to ensure that production values remain high. "It's not uncommon that we'll move between locations on a job and so it's important that we can get set up quickly and ensure that everything is consistent. So not only does the OB feature Blackmagic's UltraScope's on board, but also two large screens displaying a multiview output, providing the whole team an immediate view."

All of the video and audio signal distribution onboard is handled by a Smart Videohub 20x20 from Blackmagic Design, and distributed using the Videohub's software control. The OB SNG handles both file based audio, as well as embedded audio in the SDI. 

"The OB SNG has six HyperDeck Studio Pro SSD broadcast decks on board, which act as back up recorders, and sit alongside the ingest server, while also offering the ability to encode and stream onboard. So it really can be configured to fit any production requirements," explained Thorsten. "Filmwerk is also able to deliver in a number of industry standard codecs and formats, again, making certain the unit is flexible enough to adapt, regardless of the end-client or their needs."

"The majority of European production houses are having to balance ever tightening budgets with extremely high production values and need for flexible, cutting edge workflows. With the advent of simpler, file based workflows, we've been able to implement best practice from live OB and combine this with broadcast quality video workflows, to deliver a highly effective and multipurpose SNG solution that can be adapted in minutes."
Top Related Stories
Click here for the latest broadcast news stories.