Broadcast News
30/06/2016
albert Publishes The Costume Directory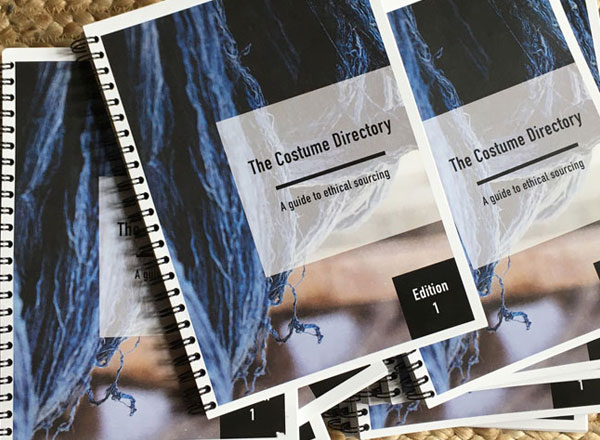 A new guide to ethical and sustainable costume sourcing for the film and TV industries has been published by albert.
The guide has been created and written by assistant costume designer Sinéad O'Sullivan, edited by Ilishio Lovejoy, and published online by the Bafta's albert sustainability initiative. It has been designed to share information and ideas across costume departments.
The directory sets out the varying criteria and credentials to look for when choosing a supplier, and the standards that make a given brand a better choice. As a resource, it eases the process of finding suppliers and brands who are committed to fair treatment throughout their supply chain, and who prioritise sustainability, environmental responsibility and fair trade.
Enabling costume departments to work in a sustainable way, the directory covers subjects such as, reasons to go green, choosing fabric, haberdashery and wardrobe department supplies, choosing suppliers, dyeing and printing, fashion brands, dry cleaning, factories and producers and disposing of textile waste.
Sinéad O'Sullivan said: "Second only to oil, the global fashion and textile industries are the most polluting in the world. As a massive consumer, the TV and film industries have the potential to make a difference by detoxifying the market and supporting socially conscious consumption. Making small changes in costume departments will contribute to a growing movement for change. Change does not mean compromising design or blowing budgets – it's simply about consciously addressing the decisions made and seeing if it could be done in a more ethically efficient way.
"This is a pilot project, aimed at sharing information and encouraging other people in the industry to get involved. It is an evolving project that will hopefully grow as more people contribute. I've been researching ethical fabrics and wanted to share what I know across costume departments in the hope that it might enthuse change in our industry. I was inspired by the progress being made in the fashion industry thanks to advocates such as Lucy Siegle, Livia Firth, Tansy Hoskins and Safia Minney. I've reached out to a number of costume designers in the development of the directory and I am really pleased by the enthusiastic and encouraging response I received."
Aaron Matthews, Industry Sustainability Manager albert, added: "albert is delighted to host the guide – it is a valuable tool for costume designers and wardrobe departments in both the film and TV industries. Sinead has worked hard to bring the directory to fruition and I congratulate her on this achievement."
To access the directory please visit http://wearealbert.org/inspiration/costume-directory
In addition, Sinéad's essay on ethical costume sourcing and her inspiration for the guide can be accessed here: http://wearealbert.org/about/albert-ambassadors/sinead
wearealbert.org
Top Related Stories
Click here for the latest broadcast news stories.