Broadcast News
08/02/2002
Director-General outlines his creative 'vision' for BBC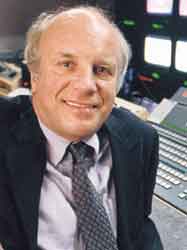 BBC Director-General Greg Dyke (pictured) has laid out a new vision for the BBC - to be the most creative organisation in the world.
In an annual address to BBC staff across the UK, Dyke outlined the purpose of the BBC in the digital era.
He said: "The role of the BBC will be more important in a decade's time, not less, because, as a result of market fragmentation, the commercial market will not be able to afford to provide some of the services it has historically produced. More will be required of the BBC, not less.
"I believe that the BBC will have three distinct roles in the 21st century. The first is an international role and, post September 11, the role of the BBC around the world becomes not less, but more, important.
"Our second role in 21st century Britain is a national role. The BBC are part of the glue which binds the United Kingdom together. This role of uniting the nation becomes more important in a fragmenting media world. Remember 35 million people in the UK turned to the BBC's radio and television news services on September 11. It is also why it is so important that our services are universally available.
"Finally, I believe the BBC will have an increasingly important community role. In television, the ITV system was historically the regional system and the BBC the national system. That will gradually be reversed as the ITV system comes under greater financial pressure. In terms of regional television news viewing, we are now ahead virtually everywhere, something that was unthinkable even five years ago."
Mr Dyke also spoke of how efforts to save money and invest more in programmes were having a tangible impact and the aim to reduce the amount of BBC income spent on overheads to 15 per cent would be achieved next year, 12 months ahead of target.
BBC,
www.bbc.co.uk/
(GB)
Top Related Stories
Click here for the latest broadcast news stories.