Broadcast News
11/05/2016
Axon's Synapse Used In Atlas 4K Truck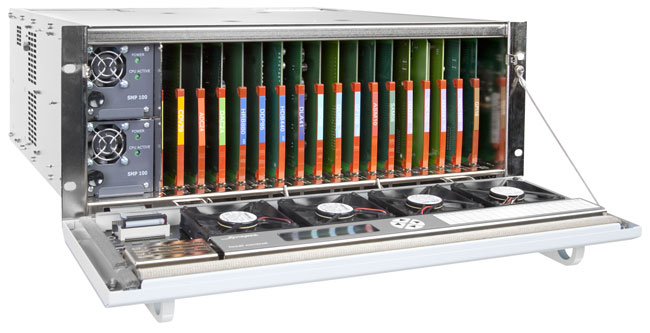 Axon's Synapse system has been installed by Viacom Media Networks Music and Entertainment Group in its Atlas remote-production truck.
The truck is used for HD and 3 Gigabit location work and live events, including several 4K productions scheduled for 2016. Synapse components in the installation include a GDR416 quad 1 x 4 4K distribution amplifier module, a U4T100 4K production toolbox module, and multiple SynView modules to create a 40-channel multiviewer. Axon Cerebrum broadcast control and monitoring software provides a single interface for the Synapse system.
Synapse is a modular system containing multiple 19-inch frames, active hot-swappable cards and mostly passive connector panels.
"We feel we've made an excellent choice with the Utah Scientific/Axon equipment that we've installed on the Atlas truck," said Danny Walters, director of remote engineering for Viacom's Music and Entertainment Group. "The price point of all the modules was very competitive, and saving money is always a plus. The simplicity of the included Cerebrum software and the features inside the Synapse modules were strong factors in our choice of these products."
Other factors in Viacom's decision included the rack-space savings of the Synapse modular system, the multiviewer cards' low latency during live events, and the frame sync card's ability to support future quad-linking for 4K productions.
As master distributor in the U.S. for the Axon product line, Utah Scientific provided installation and support services for the deployment.
"We are happy to provide Axon products within such a high-profile production vehicle," said Tom Harmon, president and CEO, Utah Scientific Inc. "Our industry-leading router technology, together with Axon's advanced solutions in modular design, will enhance Viacom's remote productions for many years to come."
Image: Viacom has installed Axon's Synapse in its Atlas 4K remote-production truck.
www.axon.tv
www.utahscientific.com
(JP/LM)
Top Related Stories
Click here for the latest broadcast news stories.